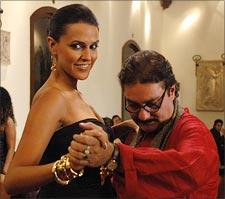 "Welcome back Mr Naïve Do-gooder.
Not that you've been away for long. Especially Mr Vinay Pathak [ Images ], who has done these roles often enough in the last five years — Dasvidaniya [ Images ], Chalo Dilli etc, etc.
The success of one film (Bheja Fry) has ensured that we must endure simpletons as protagonists in at least a dozen more of these mind-numbing avatars. It's time directors and producers wake up and smell the coffee: Simpletons do not always ensure big-time laughs and break box office records."
"Pappu Can't Dance Saala is Saurabh Shukla's [ Images ] third directorial venture. The plot focuses so exclusively on the romance between the couple that it reduces the other characters, be it the society secretary or Vidhydhar's colleagues, to caricatures.
Issues such as civic hygiene and urban noise levels are touched upon in a casual, lackadaisical manner and as a backdrop to the romance. Simplistic to the point of being ignorant, Vidhydhar is unrealistic, even making allowances for the fact that he has grown up in the sheltered world of Benares and not the corrupt city of Mumbai.
Some crisp dialogue and witty repartee saves the first half of the film, but post-interval the usual preachiness takes over and its one big yawn. You've had your fun initially, now it's time for the value education lesson.
The supporting cast boasts of big names who seem to have been thrown in without much thought. Sanjay Mishra as the owner of a food stall fails to make an impact. It's too insignificant an appearance for the actor whose popularity has soared after Phas Gaye Re Obama [ Images ].
It's great having Naseeruddin Shah [ Images ] in a film. But, again, it's a pity his role is so small.
Rajat Kapoor [ Images ] as the long-haired middle-aged choreographer is convincing. The actor has come a long way from his stilted performance in Dil Chahta Hai [ Images ].
Neha Dhupia flaunts her well-toned body. And sticks to the maxim of 'less is more'. She displays restraint and refrains from over acting. A wise decision considering Vinay Pathak never misses an opportunity to ham it up.
Pappu Can't Dance Saala is an average film with some decent performances but it is an honest effort as compared to the recent flood of no-brainers (Hum Tum [ Images ] Shabana, Tere Mere Phere or Bheja Fry 2)."
Neha Dhupia
Pappu Can't Dance Saala
Rediff
Reviews
Saurabh Shukla
Vinay Pathak