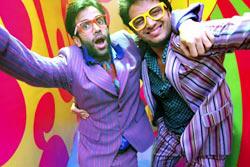 There's nothing wrong with bawdy sex comedies.
The burlesque entertainer has been a part of storytelling from its very origins, from sultans being soothed by tellers of tall tales to cavemen sniggering at sideward-8s on their stick figures. It's a grand, colourful, enjoyable tradition, and making something you can nudge, nudge, wink, wink at is as fine an ambition as any.
Except — and herein lies the lack of rub — there's really no point to a sexless sex comedy.
And that's exactly what Sachin Yardi's Kyaa Super Kool Hain Hum is, an A-rated film that feels the need to shy away from swearwords and put big, forbidding 'Adults' stickers onto even copulating canines. The film wants to be racy, but has television-friendliness forced onto its very being: which explains actors dropping their jaws at the (suggested) mention of genitalia and constantly hiding behind clumsy innuendo. Even a man reading Playboy isn't allowed to open the pages of the magazine, but flip it over entirely to reach the cover of the next issue. The covers, you see, are safe-for-Hindi-film-work.
The genre, as a result, is confused from the get go. It wants quite obviously to be Harold and Kumar, but dares not show its characters stoned. We end up then with an American Pie, a film where grown men act like high-schoolers while make-believe filmmakers act like real ones.
A scene from Kyaa Super Kool Hain HumAnd yet — despite its fundamentally flawed nature — Kyaa Super Kool Hain Hum could have been a breeze. It even is, for a scene or two. But, at two hours 16 minutes, it feels nearly two hours too long.
The songs, to be fair, are frothy enough. Ritesh Deshmukh [ Images ], an increasingly assured actor, manfully takes hideous lines and makes some of them work, while a newish girl called Neha Sharma [ Images ] displays a certain effervescence.
Sarah Jane Dias, sounding uncannily like Shahani Goswami dubbed her lines (and then understandably begged the producers not to tell anyone), is flat enough to make cardboard appear textured, while Tushhar Kapoor plays up his idiocy first to a point where he seems, incredibly enough, likeable, and then far beyond it, when he becomes harder to stand than ever.
You know what? It'd still have been tolerably okay, if only the jokes were funny.
Spoiler alert: They're not.
It's a pigslop assemblage of schoolboy laughs that stopped being amusing when our voices cracked, and for a movie close to three hours long, there are perhaps five decent lines, including one that will make all fellows nicknamed Chintu cringe rather justifiably. The film opens with the best line, where it is said about a superstitious character that "Rahu has made a Rahul Roy [ Images ] of his career."
There, that's the single best thing in this film.
You're welcome.
Rediff Rating:

Kyaa Super Kool Hain Hum
Neha Sharma
Raja Sen
Rediff
Riteish Deshmukh
Sachin Yardi
Sarah Jane Dias
Tusshar Kapoor