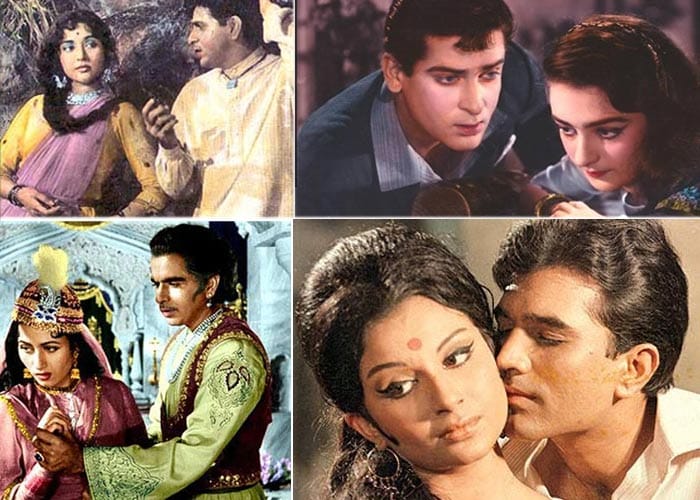 The mood of the Sixties was romantic. If the Fifties were about social and economic change, the next decade was awash with emotion. It was also a time of technical innovation with sound and light. In the third installment of our series celebrating Bollywood's centenary year, we look at the films that defined the Sixties.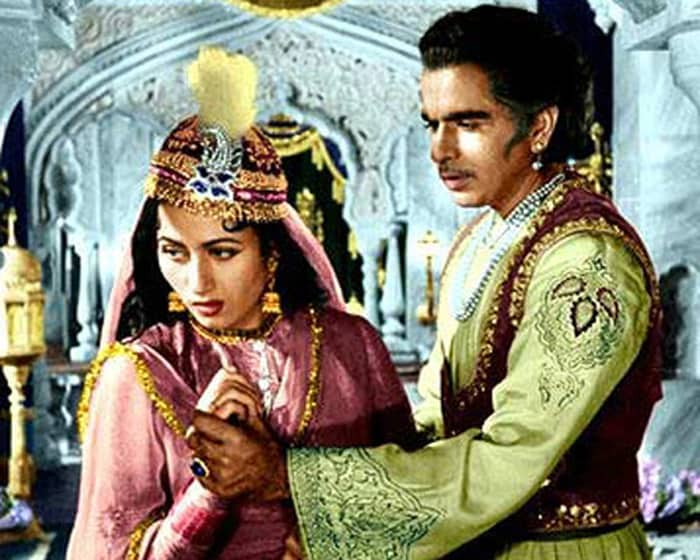 Mughal-e-Azam (1960)
Director: K. Asif
Cast: Prithviraj Kapoor, Dilip Kumar, Madhubala, Durga Khote and Nigar Sultana
K Asif's magnum opus, Mughal-e-Azam took twelve years to complete and was the first film for which people queued outside theatres the night before the release to buy tickets. An epic tale of a doomed love affair between Mughal Prince Salim and court dancer Anarkali, the film had an uninterrupted run for three years in full shows. Considered a milestone in Indian cinema, it won the National Award for Best Feature Film in 1961 and three Filmfare awards the same year. It was famous also for the spectacular song Pyar Kiya To Darna Kya, shot at an unprecedented cost of Rs 1 million in a room full of mirrors. It was one of three sequences shot in colour in the otherwise black and white film. In November 2004, the film was restored and colourised in a year-long process becoming the first full feature-length film to be revived for a theatrical re-release in the history of world cinema.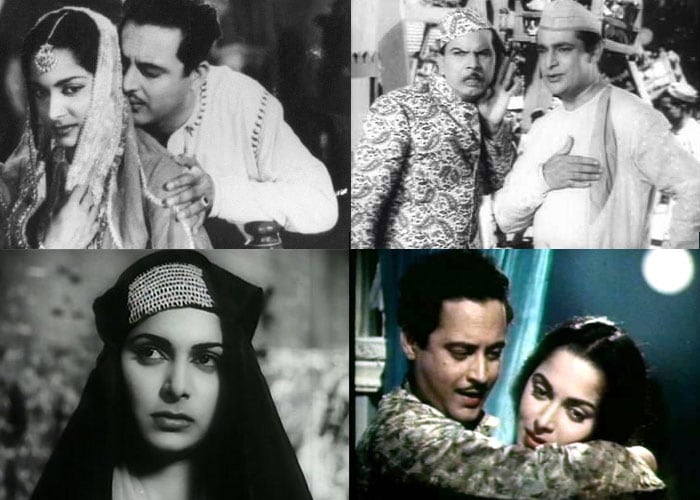 Chaudhvin Ka Chand (1960)
Director: Mohammad Sadiq
Cast: Guru Dutt, Waheeda Rehman, Rehman, Minoo Mumtaz, Johnny Walker, Mumtaz Begum
Guru Dutt's biggest box office hit and his first to go to an international film festival, Chaudhvin Ka Chand which tells the story of three friends who fell in love with the same woman began the trend of love triangles in Indian cinema. Like in Mughal-e-Azam, one song was shot in colour while the rest of the film was in black and white.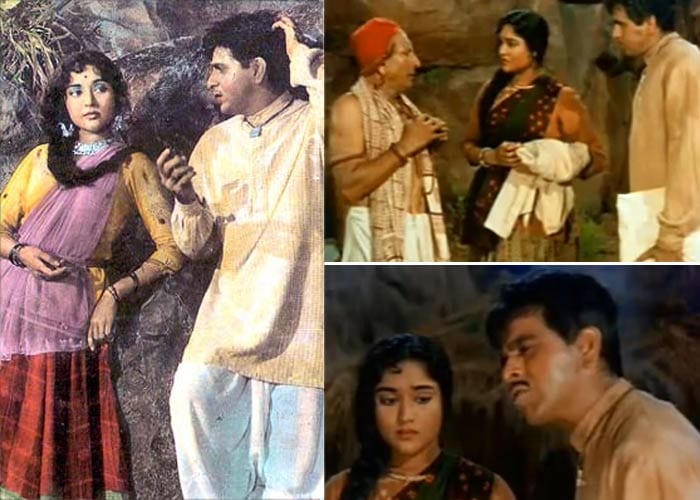 Ganga Jamuna (1961)
Director: Nitin Bose
Cast: Dilip Kumar, Vyjayanthimala, Nasir Khan, Azra and Leela Chitnis
Dilip Kumar's second success right after Mughal-e-Azam was a blockbuster hit that year. The story of two brothers, portrayed by real life brothers Dilip Kumar and Nasir Khan, became a trendsetter for future movies based on the theme of brothers on the opposite sides of the law, most famously Deewar. Ganga Jamuna became the highest grossing film that year and the third highest grossing film of the decade behind Mughal-e-Azam and Sangam.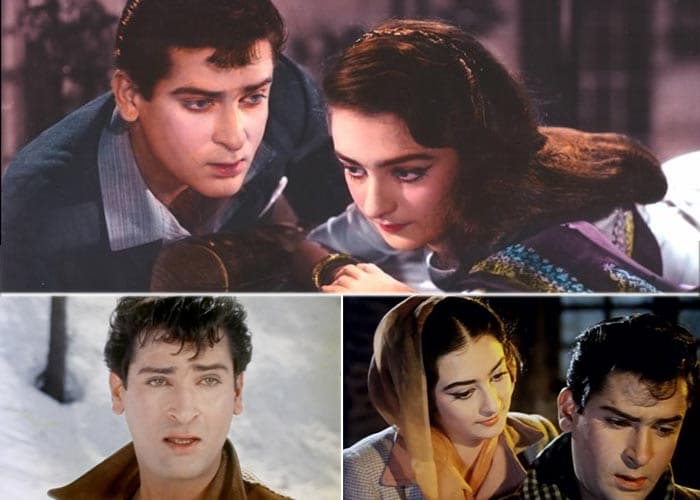 Junglee (1961)
Director: Subodh Mukherjee
Cast: Shammi Kapoor, Saira Banu, Shashikala
Actor Shammi Kapoor screaming 'Yahoo' in a snow-clad valley is one of Bollywood's most unforgettable moments. The lighthearted Junglee was a superhit and was the career-making film for Shammi Kapoor who played the scion of an aristocratic family who dares to laugh, literally, in the face of his family's gravitas.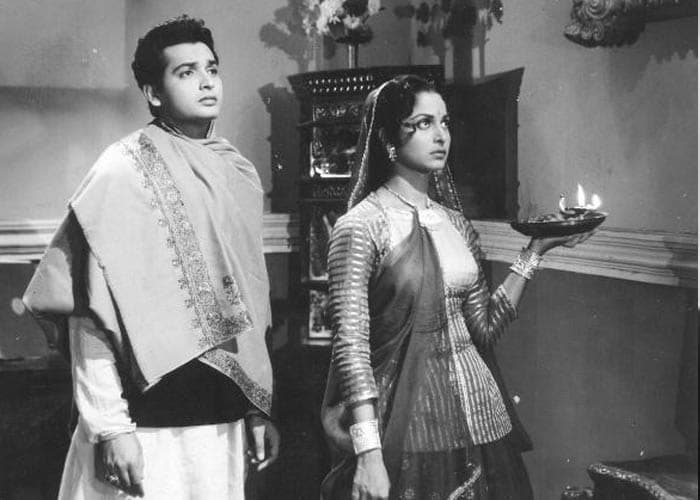 Bees Saal Baad (1962)
Director: Biren Nag
Cast: Biswajeet, Waheeda Rehman, Madan Puri, Asit Sen
Inspired by Sherlock Holmes story The Hound of Baskervilles, this suspense thriller is memorable for it's superhit soundtrack composed and sung by Hemant Kumar who produced the movie. Especially unforgettable were Kahin deep jale kahin dil sung by Lata Mangeshkar and Beqarar karke humein sung by Hemant Kumar.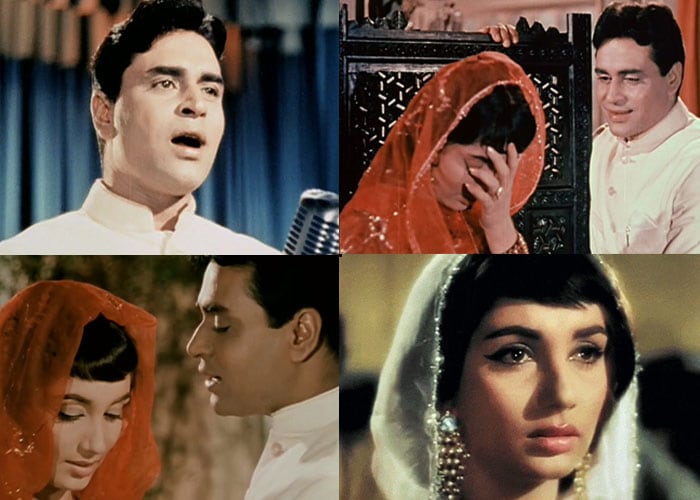 Mere Mehboob (1963)
Director: Harnam Singh
Cast: Rajendra Kumar, Sadhana, Nimmi, Ashok Kumar, Pran, Johnny Walker
Muslim society was the setting for many films of the era, of which Mere Mehboob was the most successful. It tells the story of a poor poet who falls in love with a burqa clad girl after bumping into her at college, but cannot identify her because he has only seen her hands.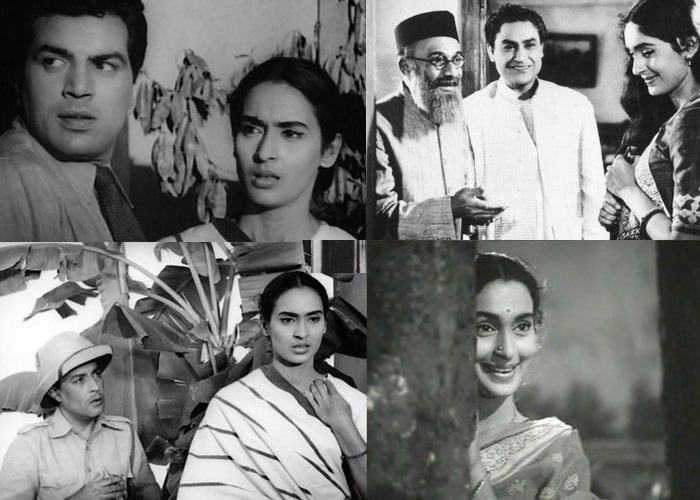 Bandini(1963)
Director: Bimal Roy
Cast: Nutan, Ashok Kumar, Dharmendra
This was the last film from the director of such classics as Do Bigha Zameen and Devdas. Critically acclaimed Bandini, which is based on a Bengali novel by author Jarasandha, tells the story of a village girl jailed for committing a murder. It received six Filmfare Awards that year, including the Best Actress prize for Nutan who delivered a career best performance.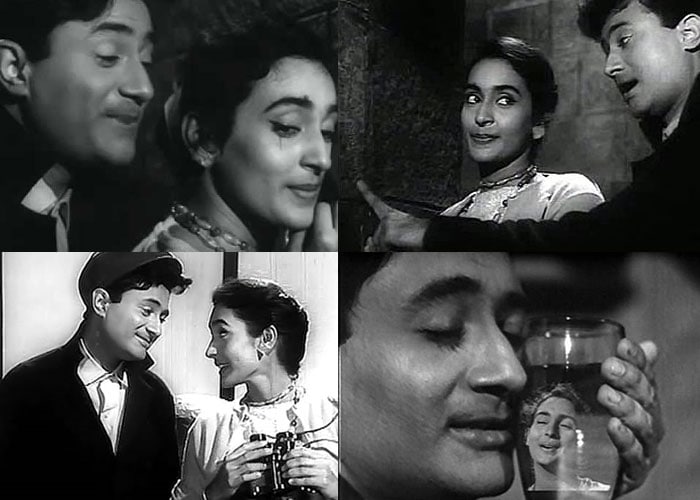 Tere Ghar Ke Saamne (1963)
Director: Vijay Anand
Cast: Dev Anand, Nutan
Nutan followed up her emotion-heavy performance in Bandini with the role of a chirpy, modern girl in this film. Vijay Anand, who was then best known for suspense thrillers, came up with a romantic comedy about two feuding millionaires who each wanted to build their house across from the other. The film is also known for songs like Dil ka bhanwar kare pukar and Tere ghar ke samne.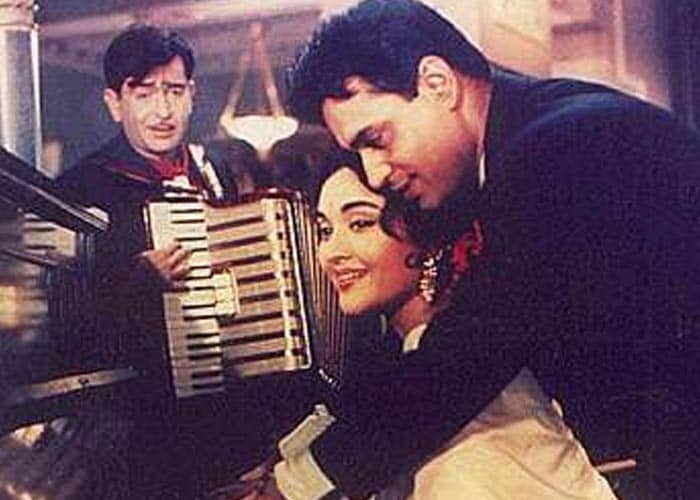 Sangam (1964)
Director: Raj Kapoor
Cast: Raj Kapoor, Rajendra Kumar, Vyjantimala
Sangam started the trend of shooting sequences in picturesque locales abroad. It was also the first to incorporate an English song, I Love You, into a Hindi film. The film was Raj Kapoor's first in colour and told the story of two friends who fall in love with the same woman.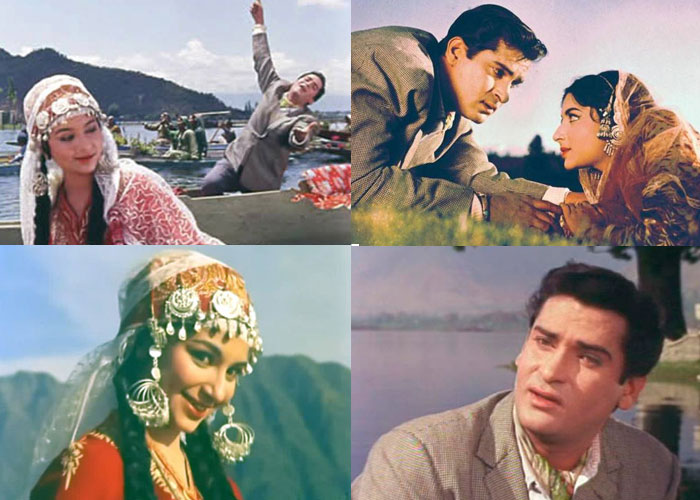 Kashmir Ki Kali (1964)
Director: Shakti Samantha
Cast: Shammi Kapoor, Sharmila Tagore, Pran
O P Nayyar's melodious tunes and the picturesque landscapes of Kashmir made the film one of the most visually sumptuous and entertaining of that decade. Counted among Shammi Kapoor's best movies, Kashmir Ki Kali was also Sharmila Tagore's debut Hindi film.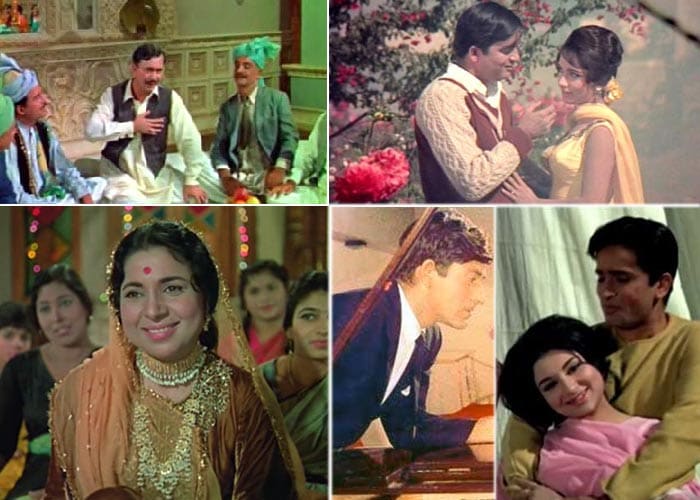 Waqt(1965)
Director: Yash Chopra
Cast: Balraj Sahni, Sunil Dutt, Sadhana, Raaj Kumar, Shashi Kapoor, Sharmila Tagore
The original lost and found movie featuring an ensemble cast, Waqt dealt with the consequences of tempting fate. The movie also gave Bollywood some of its most famous dialogues, including Raaj Kumar's signature Jaani phrase, and the beloved song Ae Meri Zohra Jabeen. It won five Filmfare Awards.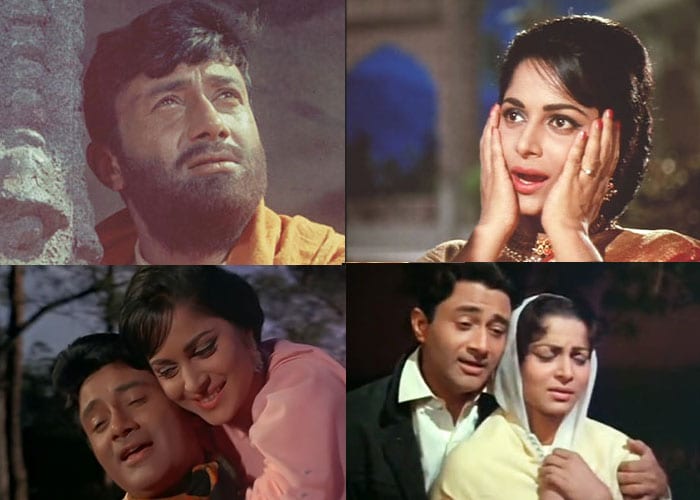 Guide (1965)
Director: Vijay Anand
Cast: Dev Anand, Waheeda Rehman, Leela Chitnis
The Anand brothers' ambitious adaptation of R K Narayan's novel was made in two versions – an English one in collaboration with Pearl Buck to introduce Dev Anand to Western audiences and a Hindi version for India. Considered one of Dev Anand's best films, Guide won seven Filmfare Awards that year sweeping all the top awards including Best Movie, Best Director, Best Actor and Best Actress. Waheeda Rehman's performance as troubled dancer Rosie was among her finest.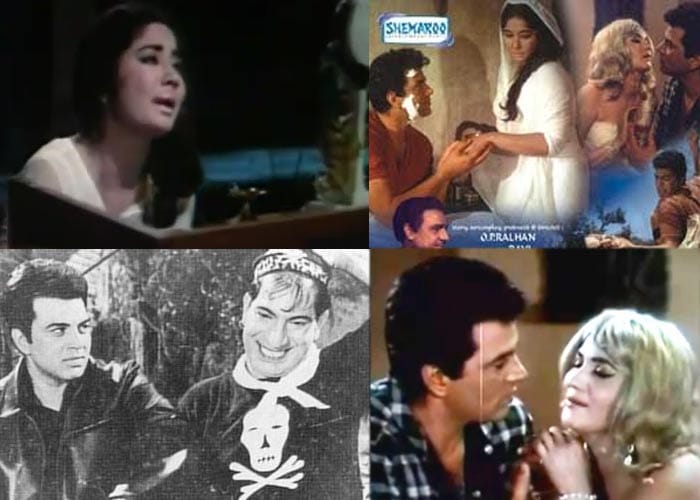 Phool Aur Patthar (1966)
Director: O.P. Ralhan
Cast: Dharmendra, Meena Kumari, Shashikala
This movie went on to become a golden jubilee hit and Dharmendra rose to stardom. Dharmendra-Meena Kumari became a popular couple and they went on to act in more movies like Chandan Ka Palna, Manjhli Didi and Baharon Ki Manzil.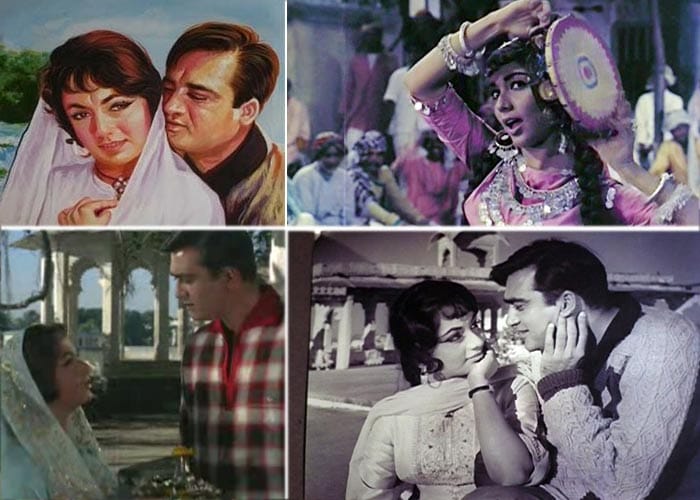 Mera Saaya (1966)
Director: Raj Khosla
Cast: Sunil Dutt, Sadhana, Prem Chopra
Sunil Dutt and Sadhana both put in exemplary performances in this tale of grief-stricken lawyer and a woman who claims to be his dead wife. The film gave Bollywood some of it's best music like the title track Mera Saaya, Naino Mein Badra Chhaya and Jhumka Gira Re.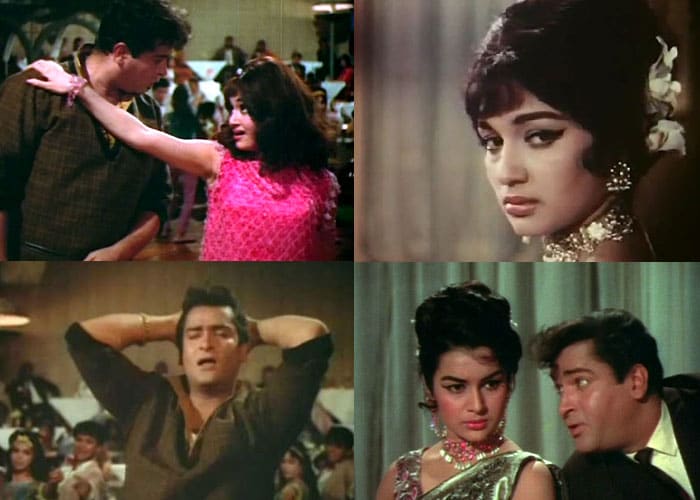 Teesri Manzil (1966)
Director: Vijay Anand
Cast: Shammi Kapoor, Asha Parekh
The story revolves around a woman who blames a drummer of a nightclub for her sister's death, but ends up falling in love with him. Vijay Anand's vision of a Hitchcock style thriller with R D Burman's bouncy score makes it a must see classic.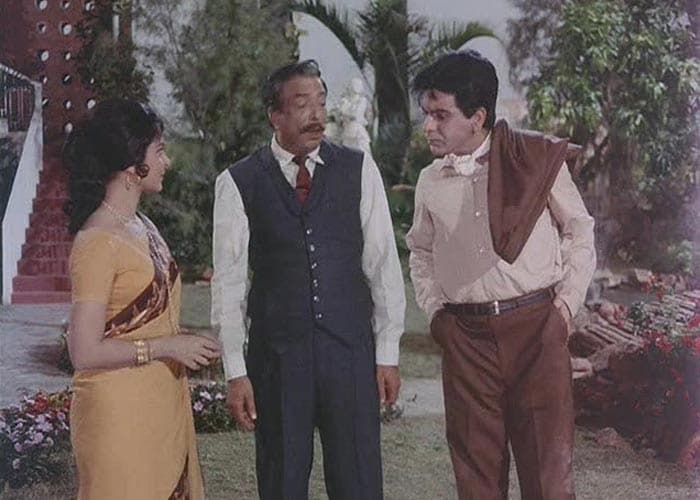 Ram Aur Shyam (1967)
Director: Tapi Chanakya
Cast: Dilip Kumar, Waheeda Rehman, Mumtaz, Pran
The first movie about identical twins separated at birth, Ram Aur Shyaminspired many future movies including Seeta Aur Geeta, Chaalbaaz and Kishen Kanhaiya. The double-role act bagged Dilip Kumar the Filmfare Award for the Best Actor that year.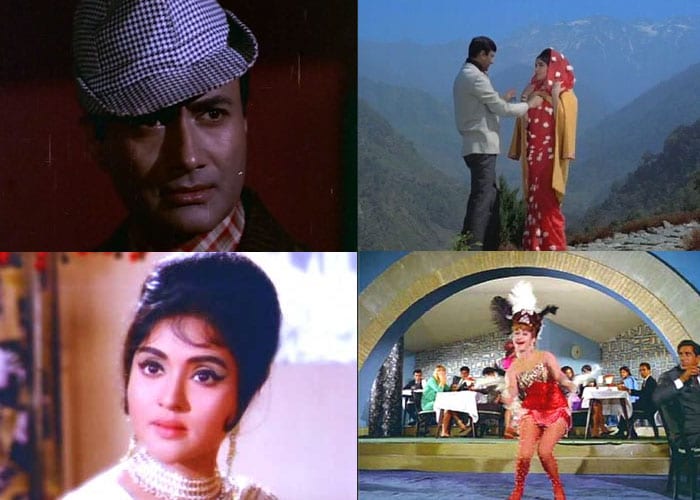 Jewel Thief (1967)
Director: Vijay Anand
Cast: Dev Anand, Vyjayanthimala, Ashok Kumar, Tanuja
This era belonged to Vijay Anand who delivered hit movie after hit movie. Crime caper Jewel Thief dealt with the theme of mistaken identity, drawing influences from Hitchcock thrillers and James Bond's style.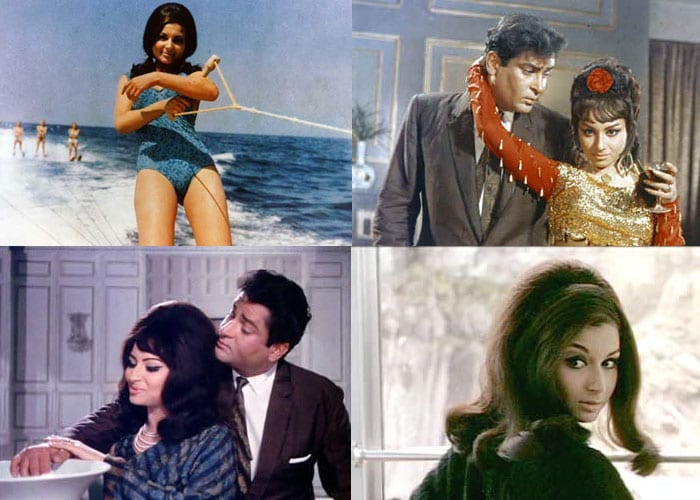 An Evening In Paris (1967)
Director: Shakti Samantha
Cast: Shammi Kapoor, Sharmila Tagore,Pran
Most famous for a song featuring a swim-suited waterskiing Sharmila romanced by a helicopter-borne Shammi Kapoor, the film was another riff on the increasingly popular lost and found them with Sharmila in a double role playing twins separated at birth.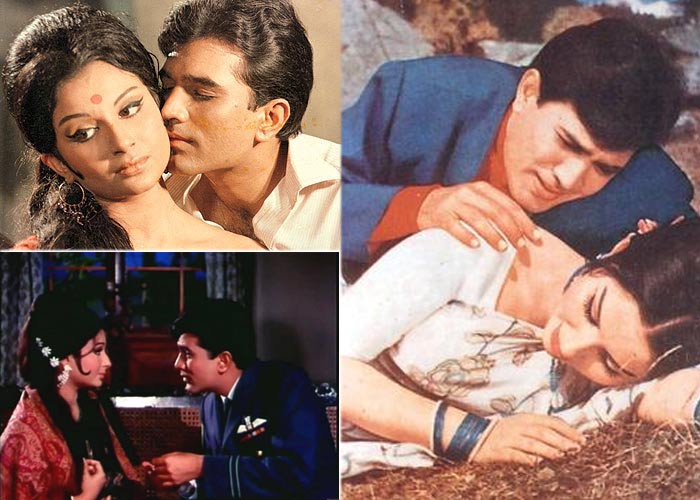 Aradhana(1969)
Director: Shakti Samanta
Cast: Sharmila Tagore, Rajesh Khanna, Sujit Kumar, Farida Jalal
Sharmila Tagore won her first Filmfare award for this movie which was a remake of the 1946 Hollywood film, To Each His Own. Aradhana shot Rajesh Khanna to super stardom and also began his successful onscreen pairing with Sharmila Tagore and they went on to star in films like Safar,Amar Prem and Daag. Kishore Kumar also won his first Filmfare Best Male Playback Singer Award for the hit Roop Tera Mastana.
100 years of Bollywood
An Evening In Paris
Aradhana
Asha Parekh
Ashok Kumar
Balraj Sahni
Bandini
Bees Saal Baad
Biswajeet
Chaudhvin Ka Chand
Dev Anand
Dharmendra
Dilip Kumar
Ganga Jamuna
Guide
Guru Dutt
Jewel Thief
Junglee
K. Asif
Kashmir Ki Kali
Madhubala
Meena Kumari
Mera Saaya
Mere Mehboob
Mughal-E-Azam
Nutan
Phool Aur Patthar
Prithviraj Kapoor
Raaj Kumar
Raj Kapoor
Rajendra Kumar
Rajesh Khanna
Ram Aur Shyam
Sadhana
Saira Banu
Sangam
Shammi Kapoor
Sharmila Tagore
Shashi Kapoor
Sunil Dutt
Teesri Manzil
Tere Ghar Ke Samne
Vijay Anand
Vyjayanthimala
Waheeda Rehman
Waqt