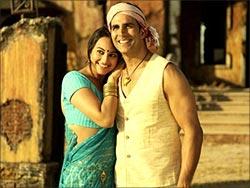 Don't fly our jokes."
Early on in Joker, one of the many oddballs populating the film, one who literally translates Hindi into English — as if we've never seen that before — indignantly says this while subtitling the words "Humaara mazaak mat udaao."
Director Shirish Kunder, perhaps in obeisance to legendary comic Asrani [ Images ] being the one mouthing the line, appears to take it as gospel. He fills the film with gags flatter than a glass of day-old cola, jokes that obediently never even attempt to leave the ground.
So what happens if a film — one ostensibly in the guise of a comedy — doesn't try too hard? The humour here isn't grating, overdone, outrageous, offensive, excruciating, unwatchable. This, then, may just be an approach that could be called a step forward in an Akshay Kumar [ Images ] comedy if only the aforementioned humour wasn't also nonexistent. There isn't a single line in Kunder's film that actually works, leaving us with a film that, while commendably brisk in a 100-minute package, refuses to get going at all.
In a Swades [ Images ]-via-Priyadarshan setup, NASA [ Images ] scientist Kumar comes back to his hometown, Paglapur, a cartographically ignored village of nutjobs, the only mildly amusing caricature among whom is a thoroughly desi yokel who believes himself to be a British Lord.
In a desperate bid to secure water for his village, Kumar engineers his crew into making crop circles hoping to attract attention.
Spotlight and skepticism both arrive, and the film goes through predictable paces while not proving either clever or sincere enough to engage. It's gaon-boys versus aliens, and it never once delights.
Kumar deserves credit for earnestly keeping a straight face through most of this schlock, with a role most muddied and unheroic.
His girl Sonakshi Sinha [ Images ] has even more of a nothing role, her face lighting up with exultant joy every time she gets an actual line of dialogue. Occasionally, in sequences where she has nothing to say, she looks seductively towards the screen in particular and bites her lip, as if seducing the poor cinematographer.
Shreyas Talpade [ Images ] makes gobbledygook sound like a language, making us wish better filmmakers hunted him out more often.
Kunder casts an incompetent actress as an incompetent news anchor, but that really isn't how to make stunt casting work.
Does Joker hold up, then, as a children's film? Not a chance. It's clean, sure, bereft of swearing or innuendo (yet with a sultry item song) but it's also daft. The aliens aren't anything to write home about. The central conceit of the film is one of deceit, and — after long and bewildering sections where tanks charge towards a forest, firing indiscriminately through frenzied photographers and villagers, and where Kumar suddenly understands Talpade's most inadequate sign-language — Akshay eventually comes off as a rude jerk.
Or maybe I'm just annoyed he made this movie possible.
Rediff Rating:

Akshay Kumar
Joker
Raja Sen
Rediff
Reviews
Shirish Kunder
Shreyas Talpade
Sonakshi Sinha