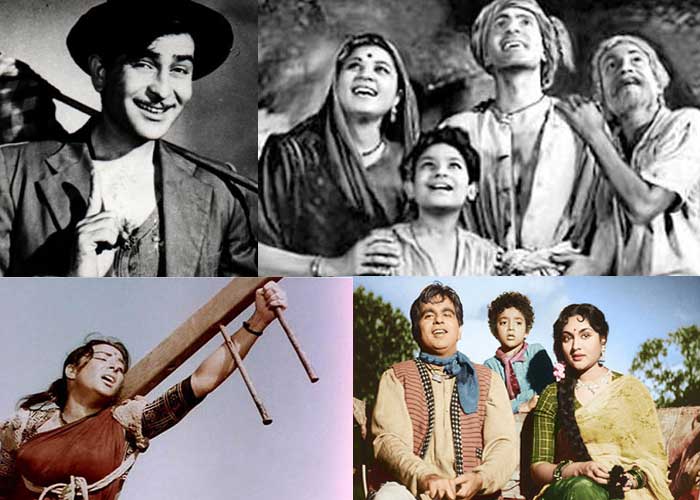 As newly independent India evolved at breakneck pace, so did it's cinema. The Fifties were the golden age of Bollywood, with the first wave of superstars – Raj Kapoor, Dilip Kumar, Madhubala, Nargis and others.
In our second installment celebrating a century of Indian cinema, here's a look at the films that defined the Fifties.
Awaara (1951)
Director: Raj Kapoor
Cast: Prithviraj Kapoor, Nargis, Raj Kapoor, Leela Chitnis, K N Singh and Shashi Kapoor
Directed and produced by legendary actor Raj Kapoor, Awaara became an overnight sensation not just in India but also in South Asia, the Soviet Union, and the Middle East. The film featured four of the Kapoors, well on it's way to becoming the first filmy dynasty – Prithviraj and Raj Kapoor played father and son on-screen, and Shashi Kapoor played the younger version of Raj. His grandfather, Dewan Bashwanath Kapoor, appeared in a cameo role. Awarawas the first film in which Raj Kapoor played the poor tramp character he based on Charlie Chaplin and would go on to play in later movies also. The film was nominated for the Grand Prize at the Cannes Film Festival in 1953.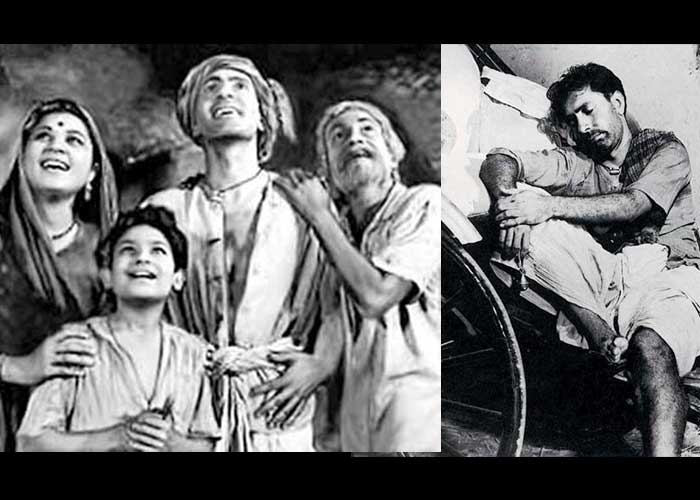 Director: Bimal Roy
Cast: Balraj Sahni, Nirupa Roy, Ratan Kumar, Jagdeep, Murad, Nana Palsikar and Meena Kumari Bimal Roy directed Do Bigha Zameen after watching Italian filmmaker Vittorio De Sica's Bicycle Thieves(1948), a movie that was to also inspire another acclaimed Bengali director later – Satyajit Ray. A gritty examination of socio-economic conditions, the film was the first to win the Filmfare Best Movie Award and the first Indian film to win the International Prize at the Cannes Film Festival.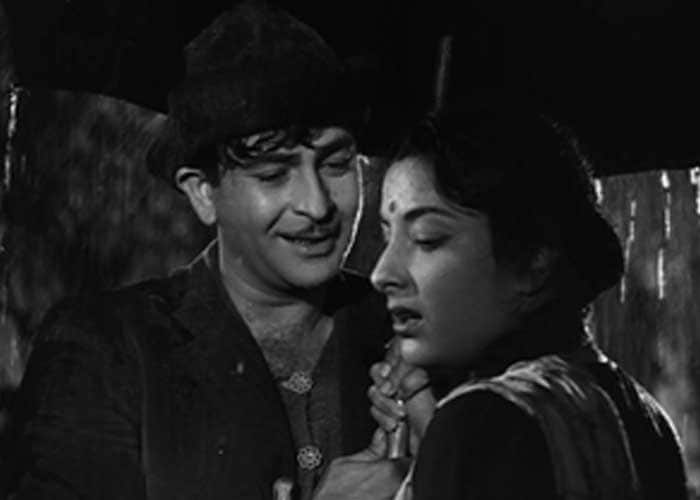 Shree 420 (1955)
Director: Raj Kapoor
Cast: Raj Kapoor, Nargis and Nadira Raj Kapoor reprised his 'little tramp' role in this story of a country boy seduced by the glamour of the big city. The song Mera Joota Hai Japani became hugely popular and a patriotic symbol of independent India.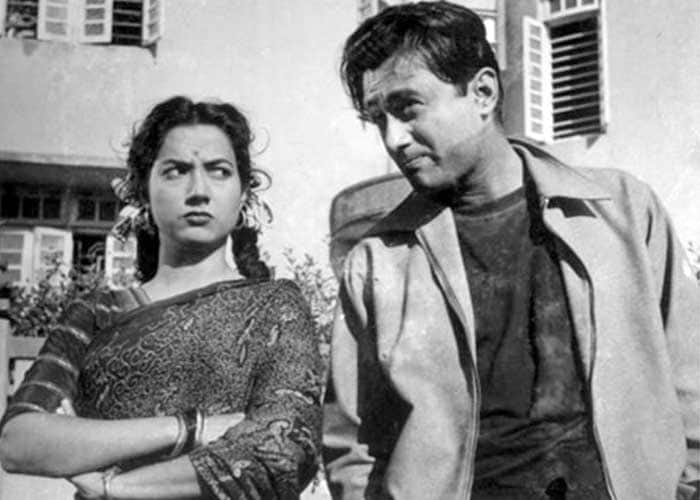 C I D. (1956)
Director: Raj Khosla
Cast: Dev Anand, Shakila and Waheeda Rehman Waheeda Rehman's debut film featured her in a small role as a vamp who meets a sticky end. Dev Anand plays a cop in this crime thriller and O P Nayyar provided a stellar soundtrack.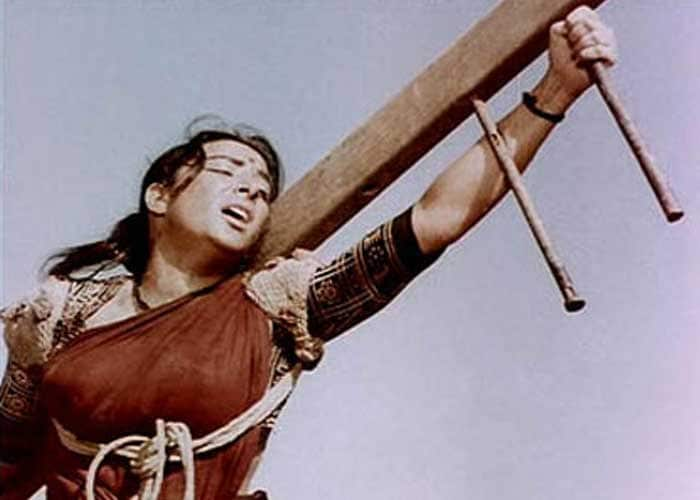 Mother India (1957)
Director: Mehboob Khan
Cast: Nargis, Sunil Dutt, Rajendra Kumar and Raaj Kumar Easily Bollywood's most important film ever made, Mother India was a remake of Mehboob Khan's 1940 film, Aurat. The film was India's first submission for the Best Foreign Language Film Oscar in 1958 and was chosen as one of the five nominees. It lost to Federico Fellini's Nights of Cabiria by a single vote.
Telling the story of Radha, a poverty-stricken woman abandoned by her husband, her arduous journey raising two sons, and the moral choices she has to make, Mother India was the first film to put India on the world map.
The film swept the Filmfare Awards, including the Best Actress prize for Nargis who also scooped up the top honour at the Karlovy Vary International Film Festival for her extraordinary portrayal of Radha.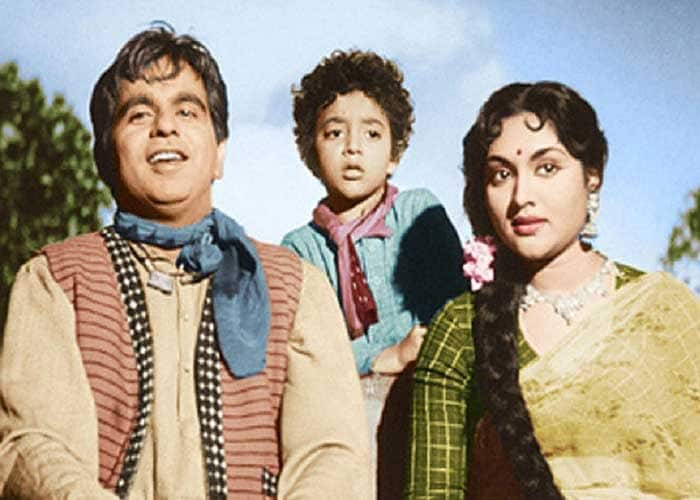 Naya Daur (1957)
Director: B R Chopra
Cast: Dilip Kumar, Vyjayanthimala, Ajit, Chand Usmani and Jeevan Economic churn in independent India inspired B R Chopra's tale of small town tongawallahs who's livelihood is threatened when the son of a rich landlord starts a bus service. The film also became infamous because of an extended court case in which Mr Chopra sued Madhubala, the original heroine, for dropping out after 15 days of shooting. In absolute filmy style, a stern patriarch was to blame – Madhubala's father considered the outdoor shoot schedule a mere ruse for Dilip Kumar to romance his daughter – and Mr Chopra dropped the case after the court ruled in his favour to save Madhubala from a prison sentence.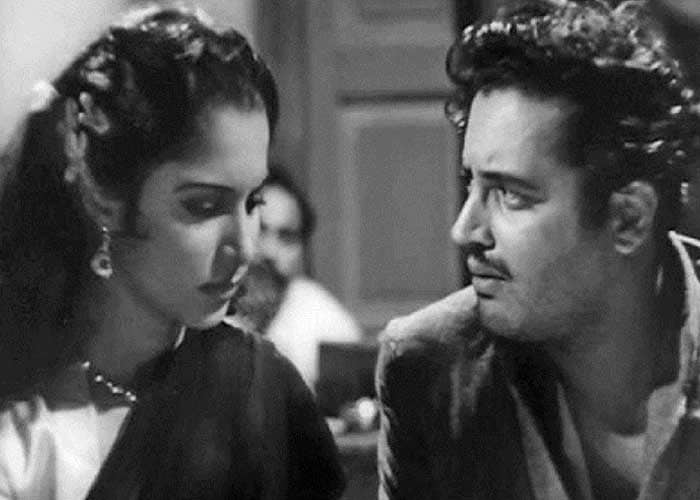 Pyaasa (1957)
Director: Guru Dutt Cast: Guru Dutt, Mala Sinha, Waheeda Rehman, Johnny Walker and Rehman Pyaasa tells the story of struggling poet, Vijay, trying to establish his identity in a corrupt and materialistic world. The film was rated as one of the 100 best films of all time by Time magazine. The story is also rumoured to be partly based on lyricist Sahir Ludhianvi's failed college romance with author Amrita Pritam.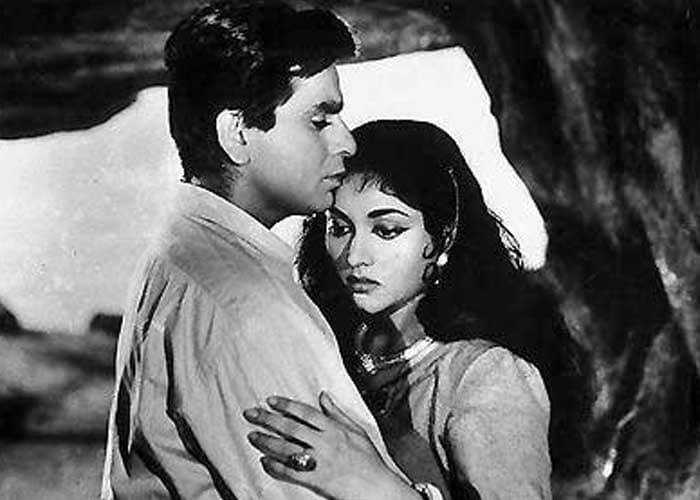 Madhumati (1958)
Director: Bimal Roy
Cast: Dilip Kumar, Vyjayanthimala, Johnny Walker and Pran
Among the earliest films to deal with reincarnation, the darkly beautiful Madhumati won nine Filmfare awards, a record it held for the next 37 years until the release of Dilwale Dulhania Le Jayenge which won ten awards. The film inspired many later re-incarnation themed movies including SRK hit Om Shanti Om.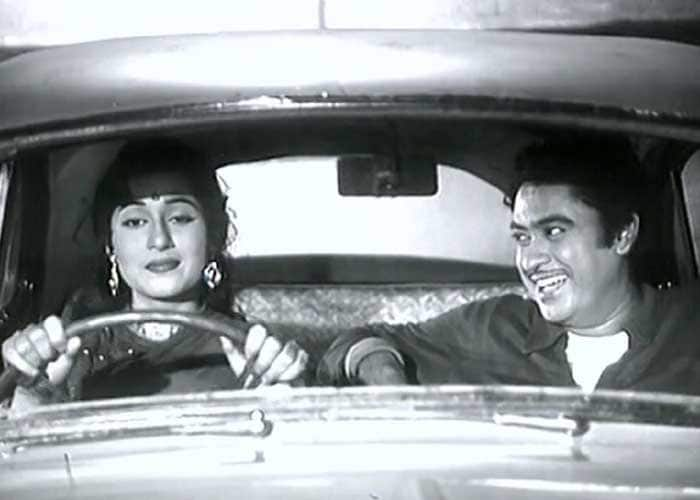 Chalti Ka Naam Gaadi (1958)
Director: Satyen Bose
Cast: Kishore Kumar, Madhubala, Ashok Kumar and Anoop Kumar Starring all three Ganguly brothers and Kishore Kumar's future wife, Madhubala, Chalti Ka Naam Gaadi was an effervescent comedy in an era dominated by heavier fare from directors like Bimal Roy and Guru Dutt. S D Burman's superhit soundtrack featured songs sung by Kishore and Asha Bhosle. Ironically, Kishore Kumar made this film hoping it would fail commercially with a view to avoiding taxes, but so successful was the film that the Gangulys starred in a second comedy called Badhti Ka Naam Dadhi.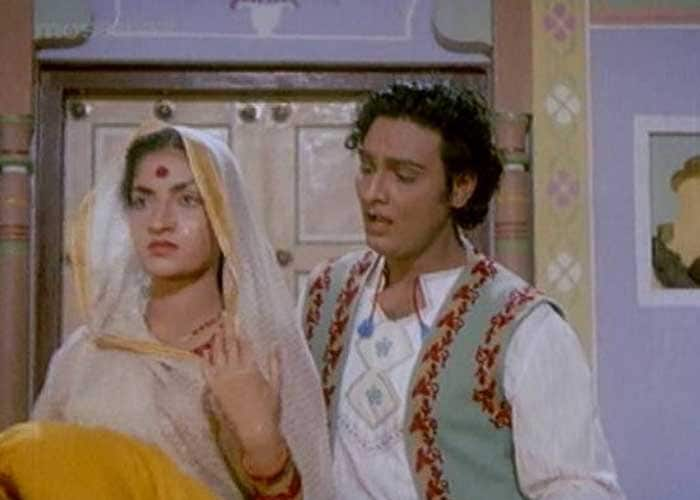 Navrang (1959)
Director: V Shantaram
Cast: Agha, Chandrakant, Mahipal, Sandhya, Ulhas and Vatsala Deshmukh
A surrealist tale of a married poet obsessed with his muse, a fantasy woman, Navrang was remarkable as much for it's spectacular set design as for it's unusual storyline.
100 years of Bollywood
Ashok Kumar
Awara
B.R. Chopra
Balraj Sahni
Bimal Roy
C.I.D.
Chalti Ka Naam Gaadi
Dev Anand
Dilip Kumar
Do Bigha Zameen
Guru Dutt
Kishore Kumar
Madhubala
Madhumati
Mala Sinha
Mehboob Khan
Mother India
Nargis
Navrang
Naya Daur
Nirupa Roy
Pyaasa
Raaj Kumar
Raj Kapoor
Raj Khosla
Rajendra Kumar
Shree 420
Sunil Dutt
Vyjayanthimala
Waheeda Rehman