Luv Ranjan denies sexual harassment allegations
,
Luv Ranjan has denied sexual harassment allegations against him. He has come out with this statement.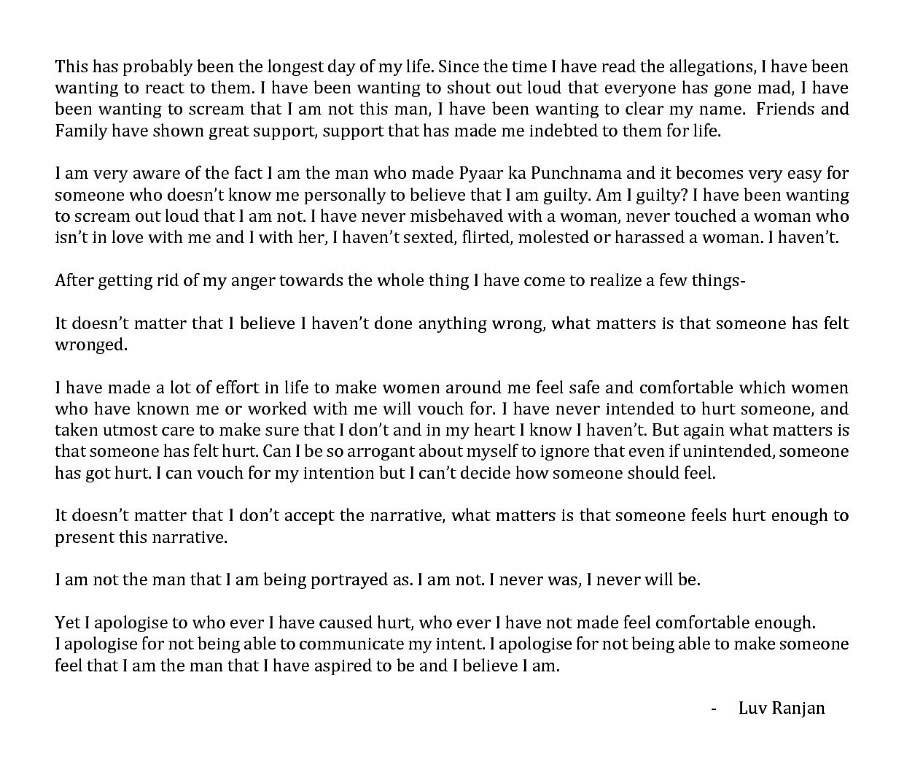 Related Articles
Antares

, , News, 0

---

After shooting in the serene surroundings of Ladakh, Bollywood superstar Shah Rukh Khan will arrive here early next week...

sputnik

, , News, 0

---

As Bengali actress Paoli Dam makes her Bollywood debut in Vikram Bhatt's erotic thriller 'Hate Story', her posters are...

aryan

, , News, 28

---

'With the Sippys involved in a family tussle, Subhash Ghai and Deepa Sahi might never get to complete their...

cr7

, , News, 46

---

Actress Deepika Padukone will be seen opposite Shahrukh Khan in Rohit Shetty's 'Chennai Express'. "Deepika is part of 'Chennai...

sputnik

, , News, 0

---

http://i.ndtvimg.com/i/2015-12/rajinikanth_650x400_71450010696.jpg Rajinikanth, Anupam Kher, Ajay Devgn, Rajamouli, Madhur Bhandarkar, Udit Narayan, Late Saeed Jaffrey and Ramoji Rao win Padma...

sputnik

, , News, 3

---

Noted Urdu poet and Jnanpith awardee Akhlaq Mohammed Khan, who shot to fame for penning Ghazals in Bollywood classics...

sputnik

, , Hollywood, News, 1

---

Here is the full list of 2019 Oscar nominations: Best Picture Black Panther BlacKkKlansman Bohemian Rhapsody The Favourite Green...