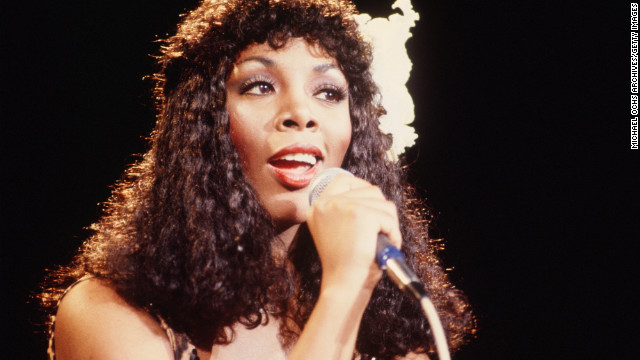 Donna Summer, the "Queen of Disco" whose hits included "Hot Stuff," "Bad Girls," "Love to Love You Baby" and "She Works Hard for the Money," has died, a representative said Thursday. She was 63.
Her publicist, Brian Edwards, said Summer was suffering from cancer.
"Early this morning, we lost Donna Summer Sudano, a woman of many gifts, the greatest being her faith," a family statement said. "While we grieve her passing, we are at peace celebrating her extraordinary life and her continued legacy. Words truly can't express how much we appreciate your prayers and love for our family at this sensitive time."
Summer first rose to fame the mid-'70s, thanks to "Love to Love You Baby." The song, with Summer's whispered vocals and orgasmic groans helped define the mid-'70s disco trend and hit No. 2 in 1976. Summer followed the song with such hits as "I Feel Love," "Last Dance" and a disco-fied version of the Richard Harris hit "MacArthur Park," which outdid Harris' version by hitting No. 1 on Billboard's Hot 100 singles chart. It was Summer's first of four chart-toppers.
But with her 1979 album "Bad Girls," Summer broke out of the disco mold as the genre, which had become renewed by the success of the "Saturday Night Fever" soundtrack, was feeling a backlash. "Bad Girls" demonstrated Summer's vocal and stylistic range and produced two No. 1 hits, "Hot Stuff" and "Bad Girls," as well as a Top 10 ballad, "Dim All the Lights."
However, Summer had some trouble adjusting to the changing times. Her next album, "The Wanderer," went for more of a rock feel. It produced a Top 10 hit in the title track but fared relatively poorly on the charts — especially after the success of "Bad Girls," a double album that spent five weeks at No. 1.
It wasn't until 1983's "She Works Hard for the Money," which became a ubiquitous video as well as a big radio hit, that Summer's fame approached its late '70s zenith.
"I don't like to be categorized because I think that I am an instrument, and if you play me, I'll make whatever particular sound is supposed to come out for that color, and so, in the overall spectrum of things, I'm just trying to be true to my, what I feel my mission is," Summer told CNN in a 2008 interview.
"She will be terribly missed. She was truly the #Disco Queen!" Singer La Toya Jackson said in a Twitter posting.
"Whitney. Tina Marie. Vesta. Now Donna Summer. The choir in heaven has a new member. They will be singing up a beautiful storm:)" actress Niecy Nash tweeted.
Bad Girls
Donna Summer
Hot Stuff
Love to Love You Baby
She Works Hard for the Money