In 1976, Martin Scorsese came up with Taxi Driver, a movie that went on to be viewed as one of the best films ever. Starring Robert De Niro, the movie garnered tremendous critical acclaim and emerged as a cult classic. Over the years many directors have been inspired by its style and the way it went about constructing a psychological study of a man leading a life shrouded by disturbing elements, or rather deconstructing the psychological state of disturbed man finding it difficult to come to terms with his environs.
Closer home, a man called Irshaad made a movie titled Taxi Taxie, casting Amol Palekar in the lead as a taxi driver operating in the metropolis of Mumbai. This movie that came out in 1977 seems to be clearly inspired by the English classic that released a year before. However it must be said that it is the best sort of inspiration. The director/writer has been influenced by the idea of his famous contemporary from the west, and has created a completely different movie, completely different narrative of his own, which is quite unique and interesting.
Amol Palekar, quite fondly given the moniker 'Hero' by his fellow Mumbai Taxiwallahs, is an honest and diligent worker who spends most of his time on the streets of Mumbai, helping various people move around the city. However, he himself finds it difficult to navigate through certain cobwebs in his mind, which keep pushing him back to his past. His choice of being a taxi driver, despite being well qualified academically, comes as an enigma to his old college friend who he runs into one day. He justifies it by voicing the joys of being constantly with various passengers, who he treats like fellow companions in the journey of life. The profession, thus, is his way of parrying off any chances of falling prey to loneliness. There is also a more romantic reason of him wanting to search for an old flame who he hopes would run into him, if luck is on his side. Thus, all the time his eyes keep searching for that familiar face while he drives through the good and bad wonders of the city.
As a part of his routine, Hero chances into a hapless (and kind) prostitute more than once, and forges a friendly relationship with her. He also meets a struggling playback singer who somehow reminds him of his flame who he wants to reconnect with quite badly. There is also a kind Christian landlady with whom he shares a lovely bond. It is through these relationships that Hero's thoughts and conflicts are brought to the fore wonderfully well.
The movie is quite atmospheric and the city of Mumbai plays a crucial role in binding the narrative. Quite like the recent Aamir Khan starrer Talaash, a movie that also shares some other similarities with this thirty five year old forgotten flick. People who have been to Mumbai will find it quite interesting to see all their favourite places from 'town area' being given due prominence in the film (without ever pushing the main context to the background). Some deftly handled small touches can be appreciated after every few minutes, which makes the film appear very technically sound in spite of the apparent low budget.
The best thing about the movie is that despite its very heavy subject and philosophical tone, it never comes across as too much to take in. Some light-hearted moments are nicely done, and some appear contrived today, but by and large it is an extremely fresh screenplay which at least I have not seen replicated in (or replicated from) any other Hindi movie. Apart from Amol Palekar and a stunningly beautiful and assured Reena Roy, none of the actors show much finesse. However the below average acting acumen of two of the three leading ladies is not at all jarring, as Amol is in each and every frame to balance proceedings.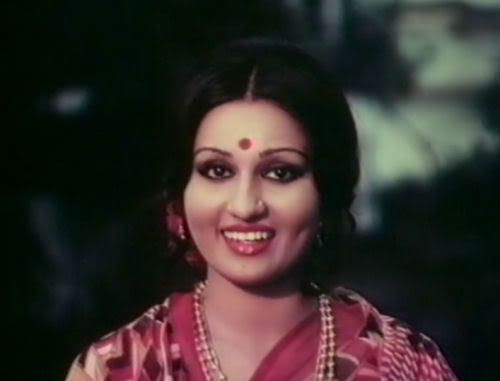 The music is tuneful and soothing, and surprisingly not overdone. But it is one of those Hindi movies which do not need the crutches of super-hit songs to stand tall. The meat in the concept and the surprisingly well written dialogues take care of almost everything. Another point worth appreciating about the feature is that it never meanders, even when its lead meanders in his realms of thoughts. In the hands of a lesser director, the plot could have turned into a crime/mystery drama, (I have seen some Hindi movies taking that route after showing a lot of promise in the initial reels) but fortunately here the man in-charge sticks to the point.
Parting Note: Taxi Taxie is a very good Hindi film lost in oblivion. Definitely a very good watch even today.
Truly Yours
Piyush Dewan
https://moviesandnomore.blogspot.in/
PS: This post is a part of the series of posts by me on lesser talked about Hindi cinema. The link for the archive page is as follows-
https://moviesandnomore.blogspot.in/p/the-list-of-movies-showcased-on-this.html
Tags:
Amol Palekar
Irshad
Member Reviews
Reena Roy
Reviews
Taxi Taxie