Poster of Alam Ara.Courtsey: The Hindu:Dated 17th March,2006
"Film as dream, film as music. No art passes our conscience in the way film does, and goes directly to our feelings, deep down into the dark rooms of our souls."– Ingmar Bergman
The above mentioned quote is my most favourite one regards Cinema as it combines the philosophical with the real in a brilliant manner. Cinema as a whole is just not a means of entertainment [I am taking a radically different pathway on this,contrary to my earlier take on a previous blog] but many a times it does have the power to influence. I would not categorically term that influence as "education" but would rather explain the influence as being able to make us reflect sometimes. It is albeit a different topic that it rarely does that.
Indian Cinema has very recently completed some 100 years. It is no less than a remarkable achievement. It infact imparts us a legacy to fall upon but only if we preserve it and respect it. Right from the very first endeavours like Raja Harischandra and Alam Ara, it was clear that our cinema would evoke the populist theorems in its proceedings. The mythological touch along with the theatrics that our cinema came with continued for most of the 50's and 60's. Infact even today we owe a lot to our roots. Else how could you explain the melodrama when Devdas is drowing himself in alcohol and the symbolic representation is done by making him go deeper and deeper in water. Metaphorical stuffs have been rampant in our cinema and it does not startle me that the "Vijay" of Deewar does not accept the money with disrespect. A very formidable throwback to the self-respect that our history boasts of.From the times when Alam Aara was screened and the revenue generate transported in sacs full of money on buffalo-carts to the moment where a certain Rowdy Rathore roars at the "Box Office" and revenues generated are listed for each day, we have come a long way. It is no hidden fact how Dadasaheb Phalke, had to toil day and night to complete his film. It is also nothing hidden that as of today foreign studios and underworld are ready to bet crores on our films. Times have changed. But the flavour of our cinema still remains the same.
I have always wondered at the most illogical stuff we depict in our films and still it works. At the same time we are or tend to be very mature in our lives. I have reached a plausible conclusion that we treat Cinema as our escape route from the mundane lives we live in. Thus when Dilip Kumar sings–"Suhana Safar,Ye Mausam Haseen", we tend to transport ourselves into the surreal. It is all about living what we may never be able to. It is highly impossible to talk at length on 100 years of Indian Cinema without talking of stills and frames. Thus I would discuss the most important stills of Indian Cinema.
Leela Chitnis
This woman was single handedly responsible for imparting glamour to the status of a heroine. Not only she prepared what today likes of Kareena and Katrina enjoy but also she brought a certain grace to the whole disposition of a heroine. She was a damn good competitor to Devika Rani and infact in many cases beat her to the race of a leading actress. She was also responsible for preparing the ground for likes of Nirupa Roy in the role of mother, torn with misery and poverty. Famous for her eyes that spoke volumes and her Lux Ad, she is a symbol of the "break-free" attitude that our leading ladies exhibit today.
Motilal enacting Chunnilal in Devdas, Vyjayanthimala as Chandramukhi
This scene brings together two of the most able actors of Indian Cinema. One an accomplished actor, an actor par-excellence and probably the first disciple of the natural acting theorem in India, Motilal had made his mark on Indian Cinema that would last for ages. Devdas in every sense was the first feature that encompassed not only the literary textures but also evoked a certain vision towards the 'tragic" in our lives. It was a reflection of us dying on screen. Love was just another reason. Motilal was so brilliant in this feature that many a critic said–"This man even in the presence of a powerhouse like Dilip, leaves an indelible imprint on our minds". Motilal also shared screen space with Yusuf Saab in "Leader". His most accomplished film to date according to me is Taqdeer. I am not sure whether you will get a print anywhere but I can treat you to a song from the movie.
The above frames also force me to direct your attention towards the poor facilities for restoration of our classics. Many are dying, many will rot and one day we shall have only memories to babber about them. You can watch these songs also on B4U music Retro section that they telecast at around midnight.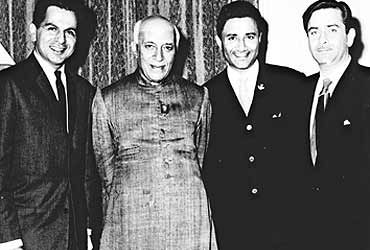 The above picture depicts not only a force bigger than a thousand splendid suns but also stands for the colossal importance these three men have to our cinema. When do you see politics stand so formidably with cinema anywhere in the world.This explains the socio-cultural impact these three men had in their prime. The fact that one[Raj-Kapoor] was a semi-chaplinesque entity trying to bring out the innocence a commoner had stood in contrast to the "tragedy" that the other[Dilip] continuously kept evoking.Comibine these two and put them against the "frivolous", "naughty", "carefree" Dev-Anand who with his flexibilities of cervical vertebra won a million hearts. Dev Anand in some ways brought the archetypal hero out from the shadows of innocence and tragedy to the world of lovable mischief. There was a constant endeavour on their parts to deliver what they knew best. They are complementary to each other on many parameters. I am attaching a few immortal stills for you to have a closer look at them.
The above defines Dilip in his element. A genre of character display that none apart from him have done so fervently and so brilliantly.Tragic brought this man into his own making it seem he was fighting a sadness within himself. Deedar is a piece par excellence. What would you say of a man who is blind, gets his vision restored and then deliberately blinds himself when he confronts the fact that his childhood love is now married happily. Which other actor in Indian Cinema has played such roles so poignantly? None!! Amar is his revolt against his own goodness raising very pertinent moral questions. Developing under the wings of Devika Rani, this thespian as he would later be referred as, brought himself accolades in various roles apart from tragedy– Ganga Jamuna, Mughal-E-Azam, Naya Daur, Ram aur Shyam–a few examples of textbook display of noteworthy acting. His contribution to Indian Cinema is same as that of Clift or Brando to Hollywood Cinema, of such sheer value that take him out, you might just have sand in your hand, which will slip away. He is a binding force in Indian Cinema with a body of work [56 films] that is much less than others but far more worthy than any other.
Can you miss the bend of head? The eyes that want to say something,mischief probably! The typical hat that makes him look classy and mongoose at the same time. The rugged look that imparts him a bit of gravity yet keeping the "youth' alive. With a dialogue delivery that used the "subluxation of words to an extent that one wondered how can it come out so smoothly, this man re-defined the archetypal hero. I distinctly remember watching him in CID and loving him instantaneously. He brings a freshness onscreen, a zeal that can transport you to shores where the surreal starts looking a closer probability. People call a 46 year old SRK old enough to be paired with a 30+ Katrina as of today. What would you say of a man who at the age of 56 sparkled on screen with a 20 odd something Tina Munim in Des Pardes.He was young at heart.Very innovative with his style. Dressed in a manner that suited his role. Never set boundaries for his act, instead explored himself during the act. Kala Pani deseves some mention here. This movie and the subtle yet earnest display of acting by Dev is a treatise on how to play the role by understanding it's subtexts. Never does he show the angst with much emphasis but you can feel it burning. Another feature of Dev Anand that distinguishes him from others was his effort to bring energy to an act. People say SRK derives much from Dilip, I'd rather say he derives more from Dev Anand. I will discuss Guide later on as it forms the most important point in the manner in which our films changed, both in technique and style.
Leaving you today with a still that stands for the historic times we are descendants of: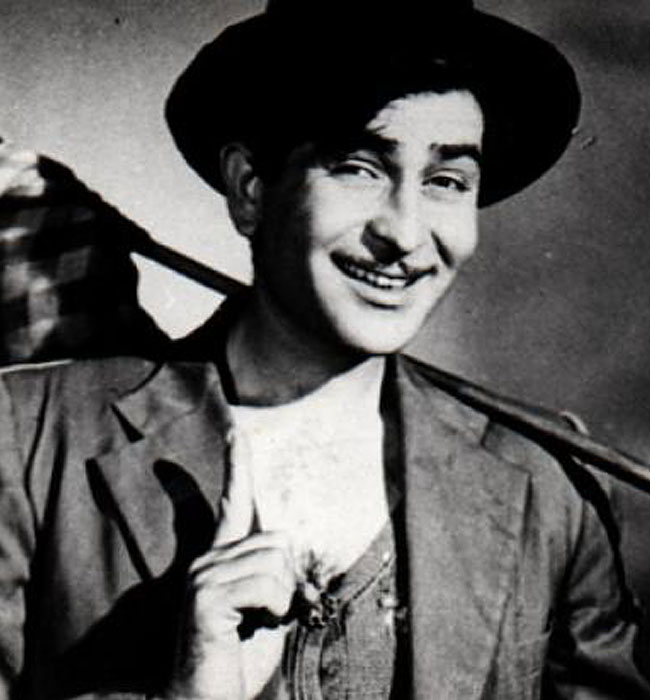 I will take up the next post from here.
I will take Raj Kapoor and the rest of the history again in part -2. I wish to present all this in parts encompassing a good deal of each era, discussing frames and stills, their importance. I am not endowed enough to do so but I will try. What I have done here is just erode some soil from the past but much lies deep within. This post, if written at one go, would have become very long. So I am breaking it. Hope you like the effort. Do pitch in with your thoughts and your ideas. What you think of the whole past. Please make it a point to discuss the era about which i have written for if you discuss the 90's here, my point of writing on it later would be lost. You can openly discuss anything from past. Any piece you had caught. What you don't like? What you liked!!
Thanks
Milind/Anupam
Tags:
100 years of Bollywood
Alam Ara
Amar
C.I.D.
Dadasaheb Phalke
Deedar
Dev Anand
Devdas
Devika Rani
Dilip Kumar
Exclusive
Ingmar Bergman
Kala Pani
Leela Chitnis
Motilal
Raj Kapoor
Raja Harishchandra
Tina Munim
Vyjayanthimala