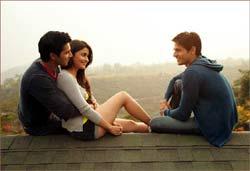 A lot has changed since I wrote my first ever piece, the music review of Kuch Kuch Hota Hai. I was still a student that year (1998) when I penned down my thoughts on Jatin-Lalit's soundtrack for Karan Johar's directorial debut in a rough note book while listening to every song over and over again on my prized Discman.
In KKHH, which came out in the third week of October, a substantial portion is set in college, sharing its name with my alma mater St Xavier's, and weaves a tender love story between the campus hottie, coolest guy and his tomboyish best friend. The entire scenario was, at once, familiar and relatable.
Forteen years later, I'm back to college, a super swankier upgrade from the last one, to review Johar's latest Student Of The Year (also released in the third week of October). And while it's nowhere as epic or close to home as KKHH, this no-holds-barred musical brimming with bright new faces has enough going for it to ensure a good time.
Now, college is a crucial period in one's life and also the most carefree. But Bollywood prefers to focus on the latter, interpreting it as a premise for fun, games and laughter. Whether it's Khel Khel Mein, Khiladi, KKHH or Main Hoon Naa, canteen takes precedence over classrooms, exams are secondary to extra-curricular activities and romance/ rivalry not report card is what drives a student's ambition. And filmmakers like KJo and Farah Khan [ Images ], lending it the Riverdale High treatment with desi Veronicas and bumbling Weatherbees, just add to the mirth.
Give in to the prospect of an academic township as glamorous and indulgent as St Teresa's (students drive Ferrari [ Images ] and wear Jimmy Choos, the dean carries a Louis Vuitton case and Burberry umbrella, prom nights are hosted on stage twice the size of the one at an awards ceremony, cafeteria could cover half a mall and all-expenses paid holiday weddings in Thailand) and Student Of The Year works well as a shiny, brisk high school fantasy about wealthy kids and poor kids who look like rich kids and their issues — parents. There's a hilarious snippet to explicate this bizarre and varying degree of parent-child equation that comes forth during weekends at home.
All of which is narrated through a series of flashbacks via close pals of the leading troika (as in the case of Chalte Chalte and Jaane Tu [ Images ]… Yaa Jaane Naa), which builds towards a mysterious (read clumsy) climax. Only Student Of The Year employs this technique with better supporting actors and finesse than its afore-mentioned predecessors.
Treatment is Karan Johar's forte and it is what makes his first film with rank newcomers, despite the absence of a logical plot, so fresh and zany. Unlike KKHH, which had the advantage of two superstars and one dazzling aspirant, neither of SOTY's three key players are seasoned actors. Incisive as he is, the filmmaker is well aware of the strengths and limitations of his inexperienced cast, concealing their inadequacies to imply that strange allure of rawness while drawing on their eager energy to convey a refreshing charm.
With the best of technicians and aesthetics to go, St Teresa embodies the lavish platform he's offering these kids to showcase their proficiency in dance, athletics and fashion.
All three — Varun Dhawan (strumming a guitar in a shirtless avatar to flaunt his chiseled torso), Alia Bhatt (playing the young fashionista to the hilt against a Gulabi aankhen remix) and Siddharth Malhotra (ramp walking on the campus, anyone?) –receive a smashing introduction befitting of star kids.
While Dhawan is the quintessential neglected, black sheep of a filthy rich family who whiles away his time aimlessly, Siddharth is a go-getter, small-town boy with the single-minded goal of nabbing the Student of the Year trophy. As for Alia, she's just an affection/attention-hungry kid with a wardrobe that could put Cher [ Images ] Horowitz to shame.
Alia has a striking innocence and is an absolute livewire in her introductory scene exhibiting the screen presence of a star. Somehow the script itself doesn't have too much for her. She's not expected to convey anything beyond a wide-eyed, slow-witted campus diva.
Siddharth looks like a younger, leaner Sudesh Berry and exudes terrific confidence. Although the film covers up his stiffness quite a bit allowing his swagger to take centre stage but who knows? With time and effort, he too could polish up and grow into someone like Akshay Kumar [ Images ]. The guy sure is easy on the eyes.
Especially memorable is that quiet 'moment' between him and Alia during a wedding sequence with just some delicate motions and a melodious piano playing in the background. This is the part where you smell — promise.
Of the three, Varun is assigned the most fleshed out role and best lines. His equation with Siddharth is a greater focal point in their coming-of-age than that of either of them and the girl. And the upshot of this bromance is a tad awkward because Varun doesn't have the conviction to pull off a complicated, free-spirited boy with a wry sense of humour.
Even if these characters never go beyond essaying recognisable stereotypes, it's the supporting circle of friends played by Manjot Singh (the adorable whimsical, wish there was more of him), Sana Saeed (the impish central figure of Kuch Kuch Hota Hai sportingly steps into the slot of the hot 'n' phony seductress), Mansi Rachh (sparkles as Alia's feisty best friend), Sahil Anand (plays the sycophant with admirable wit) and Kayoze Irani (Boman Irani's [ Images ] son is endearing as Dilton Doiley in Moose's body) that generate a true sense of warmth and camaraderie.
The real piece of acting comes from Rishi Kapoor [ Images ], of course. As the queer faculty head with designer tastes, assorted brooches (in response to Boman Irani's eclectic ties in Main Hoon Naa?) and part-standoffish, part-smooth temper, Kapoor plays a potentially loud figure with an elegant exuberance that's both sweet and side-splitting whether he's gently caressing John Abraham's [ Images ] bare upper body on a magazine cover or scoffing at the idea of sharing the object of his infatuation — the robust coach (a fit, dignified Rohit Roy in a fairly small role) with his thepla-offering wife (Prachi Shah) or breaking into an impromptu Dafliwala jig, RK is a class act in every conceivable scenario.
Unlike Kuch Kuch Hota Hai, which was distinctly coy in temperament, the young folk of SOTY shoot expletives with tact, lock lips with elan and parade their gym-toned bodies in skimpy beach wear.
While there's no way it can match the volume of emotions with the one that proclaimed, 'Pyar dosti hai,' it does reveal the director's fondness to film outdoor games. Basketball is replaced by football (and a triathlon of swimming, cycling, running) and dumb charades makes way for a treasure hunt accompanied by riddling, filmi clues.
It could all fall flat and look very silly but KJo's gift for timing scenes maintains a finger-snapping pace to pass off flippant as fun.
Often it is this hold on the viewer through constant influx of escapism and pomp with magnificently choreographed songs, razzle dazzle of colours/style/design, appropriate dosage of humour and ritzy production values that distracts one from Student of the Year's brash celebration of superficiality and obvious lack of depth.
Rediff Rating:

Alia Bhatt
Karan Johar
Rediff
Reviews
Sidharth Malhotra
Student Of The Year
Sukanya Verma
Varun Dhawan