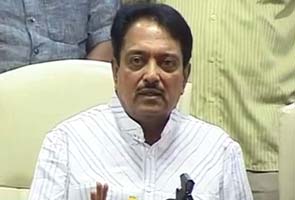 Mumbai:  Shah Rukh Khan, the owner of the Kolkata Knight Riders, has been banned from entering Mumbai's Wankhade Stadium for five years.    The head of the Maharashtra Cricket Association (MCA), Vilasrao Deshmukh, announced the decision this morning.
Mr Deshmkuh said that after his fight at the stadium on Wednesday night, the actor has "shown no regrets…in fact, he justified his actions."  The MCA administers the Wankhade stadium, but the Board of Control for Cricket in India (BCCI) will make a final call on the ban, IPL chairman Rajiv Shukla had said yesterday.
A police complaint has been registered against the actor for voluntarily causing hurt and for intimidation – because this is a non-cognizable offence, SRK as he is known cannot be arrested.  The actor said on Thursday that he was provoked after security guards touched a group of children he was accompanying, which included his daughter.  Photographs of the brawl show his daughter, holding his arm as he confronts officials and the guard.  The MCA says that the actor should recognize that officials showed "great restraint" in how they handled the situation.    "If anybody behaves like this…whosoever it may be…action will be taken," Mr Deshmukh said.  He also said that while the actor has said he was  trying to protect children, no complaint has been registered by SRK against the guards or officials.
The trouble began on Wednesday night when SRK's team was playing the Mumbai Indians.  SRK did not attend the match but arrived there later to pick up his children and their friends.  In his police complaint, the security guard, Vikas Dalvi, says he saw SRK and his entourage in the players' dressing room and  asked them to vacate it because it can only be used by team members.  The actor and his entourage then tried to walk onto the grounds of the stadium.  A complaint by an official of the MCA, Nitin Dalal, who was present at the fight states that SRK appeared drunk and used abusive language against officials including Mr Deshmukh.
Shah Rukh Khan