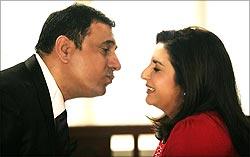 Most movies and news headlines would like us to believe problems are not problems unless they're written in bold, capital letters or accompanied by a dramatic background score. But in reality, even an out-of-work flush can put the most pacifist fella in a really foul mood.
And while that's not the objective of editor-turned-filmmaker Bela Bhansali Sehgal's Shirin Farhad Ki Toh Nikal Padi, it certainly makes for a welcome break from farcical exaggerations. What sets this delightful love story apart is that it's woven around two 40-plus Parsis, who neither face the hurdle of age nor community.
The collective purpose is to introduce an element of novelty in a fairly simple tale about two decent but lonely adults Farhad and Shirin (Boman Irani [ Images ], Farah Khan [ Images ]) having a hard time getting together owing to disapproving parents, ailing parents or that good ol' troublemaker — misunderstanding.
How they overcome the odds is pretty much the whole point. And Sehgal makes it with an easygoing vibe and a bunch of endearing characters with the family-friendly warmth and sensibilities of say, a Basu Chatterjee, a Hrishikesh Mukherjee or more recently a Rajkumar Hirani [ Images ].
In the whimsical and concentrated universe of Pastakias and Fuggawalas, awkwardness is an unavoidable adversary and troubles are undersized but real. So there's Farhad's overprotective but well-meaning mommy (Daisy Irani) and her frequently amusing phone calls to her son. She's as much fun if not as sarcastic as Vicky Donor's Beeji (Kamlesh Gill). Farhad also lives with his affectionate grandmother (Shammiji) and does something possibly less awkward for a living — a sweet 'n' sentimental lingerie salesman with a dream of starting the Underworld (it's a pun, get it?).
At 45, he rides a lime green sidecar scooter, is single and dying to mingle but seems to put off most eligible candidates with the mere mention of his profession until the feisty but friendly Shirin walks into his life, correction, store.
Farah Khan and Boman Irani in Shirin Farhad Ki Toh Nikal PadiIf only it wouldn't lead to so many dreary songs. Especially the post-interval Ramba mein Samba track is a fun gimmick (spoofing Kuch Kuch Hota Hai [ Images ], Hum Aapke Hai Kaun, Dilwale Dulhania Le Jayenge [ Images ]) but entirely forced into the narrative, which despite its 112 minutes running time could do with a few more snip-snips.
Even as Shirin and Farhad form the focal point of the story, their progress is boosted by the combined quirks and adorability of a distinctly Parsi backdrop. Except for the Bawa caricature overkill, not too many mainstream films (Pestonjee, Khatta Meetha, Little Zizou, Being Cyrus [ Images ]) venture into these parts. Strange, considering it has so much to offer in terms of lifestyle, wit and ideology.
If you discount the enduring cliché in Kurush Deboo's presence, SFKTNP celebrates the cultural stereotypes of this cozy community with lighthearted and inoffensive humour. It's certainly nowhere as grating and overbearing as the other Bhansali, Sanjay Leela's proclivity for regional excesses as witnessed in Devdas and Hum Dil De Chuke Sanam. The toning down is some accomplishment for the King of Extravagance given that he has both — produced and written the film.
Coming back to the lead couple, the romance is gradual, polite (what's your favourite colour?), asexual (if you ignore a Joey Tribbiani inspired sequence) and not as goofy as the publicity campaign would have you believe. But on the brighter side, Boman Irani and Farah Khan make a believable couple and share a comfortable, familiar chemistry.
If Boman holds the fort as the highly sincere romantic, Farah makes a self-assured debut and does well even in emotional scenes without looking hilarious. And how lovely does she look in her ruby red Gara embroidery sari?
The choreographer/filmmaker is not a professional actress and neither pretends to be one. The screenplay accommodates a lot of her informal personality and classic Farah-styled quips. Like the one where she wryly comments, 'Bartan to nahi dhone padenge?' after glancing at the prices in an expensive restaurant.
What Bela Sehgal Bhansali does best here is casting essentially genuine and loveable people.
The eternally cute Daisy Irani steals every single scene she's featured in. (Just watch her expressions in the prawn curry sequence, you might have to transplant new sides.) So do Shammiji and Sori Marker (as Feroz Uncle, Farhad's Indira Gandhi [ Images ] obsessed relative) with their ceaseless verve and funniness.
Each one of them lends these honest and innocent qualities into the characters they're portraying to make Bhansali's debut behind the camera a feel-good and pleasurable experience. Do yourself a favour, indulge them.
Rediff Rating:

Bela Bhansali Sehgal
Boman Irani
Farah Khan
Rediff
Reviews
Shirin Farhad Ki Toh Nikal Padi
Sukanya Verma