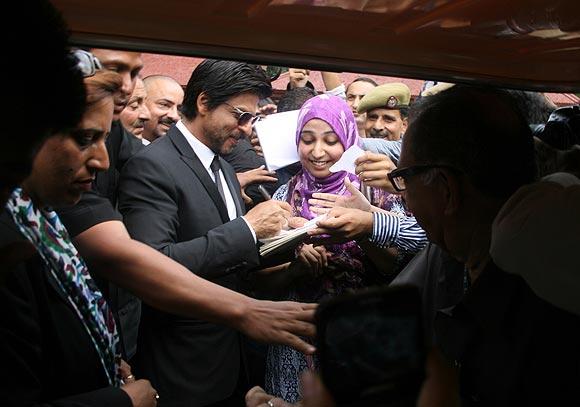 Shah Rukh Khan, who is on his much-publicised maiden shoot in Kashmir, charmed the media in a press conference held in Srinagar.
The actor has completed the nine-day shooting schedule for Yash Chopra's yet-untitled film and claimed that he was 'a little sad about leaving the Valley'.
But he promised to return soon with his family for a holiday.
Addressing media persons in a press conference in Srinagar, Khan said that his visit to Kashmir was "a realisation of a dream".
"It was always my father's dream to take me to Kashmir because his mother belonged to this place. Making it finally to Kashmir has been the fulfillment of a family dream," he said.
The press conference, which saw the presence of many fans as well, became quite chaotic.
SRK had to get up from his chair and request the milling fans to be quiet so that the press conference would carry on.
Asked about his views about Kashmir being portrayed in a certain manner after the eruption of militancy, he said, "Different people have different ideas and films are just the reflection of a society. It depends on the storyteller what kind of story he wants to tell."
On the negative portrayal of Muslims in some movies, the actor said his film My Name Is Khan was an attempt to clear the misgivings about Islam and Muslims around the world.
"There are some people from our community who do wrong but that does not mean Islam or Muslims are wrong," he added.
Khan was all praise of Kashmir's beauty and cuisine and said that "the Valley's beauty was unmatched".
He said that he was not big enough to attract people to Kashmir but hopes more filmmakers will return to the picturesque destination in future. Kashmir was a favourite settling for romances before the beginning of militancy in the 1990s.
"I hope more filmmakers will come to Kashmir. They have been coming before (militancy) on a larger scale," Shah Rukh said.
"I am not so big but when people see the film made by a big banner with big names associated with it, people will come. I am hopeful of that," the 46-year-old actor said. He added that people from South Asia and South East Asia will want to visit the Valley after they watch the film.
The film, which is yet to get a title, marks Yash Chopra's return to Kashmir after a gap of almost three decades. He last shot Kabhi Kabhi and Silsila in the Valley.
It is scheduled for release on November 13, and also stars Katrina Kaif and Anushka Sharma.
Anushka Sharma
Interviews
Katrina Kaif
Shah Rukh Khan
Yash Chopra
Yash Chopra's Next