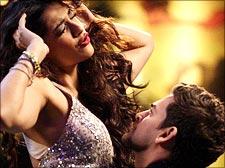 "'You know what your problem is? You plan way too much in advance. I am all about the moment. Muhahaha.'
'You know what your problem is? You're too predictable. I am cool. See the gun, baby? Muahahaha'
'Nonsense, I am the hero. I am always right. Muhahaha.'
'Not in this film, twit. I am an Abbas-Mustan creation. Wait till I unleash another twist and prove you wrong. Muhahaha.'
'So my name isn't Inigo Montoya but you did kill my father. Prepare to die.'
'Whoa, now who's that? What movie am I in?'
'You'll have all the time in the world to think about that once I insert this bullet in your head. Muahahaha.'
'He was right. No imagination.' *Dhishkyaon*
Alright, you kids with fancy stubbles and engraved guns, can we pause for a second?
I know what you're thinking. No, it's not an entirely accurate reproduction of what actually transpires in the movie. But the idea is to pass on just how absurd and comic it all gets.
The real problem with this official remake of The Italian Job is that instead of reproducing a perfectly nuanced screenplay as it is, it tries to act too smart, with excessive elements and needless tampering, in the process making a complete fool of itself. Why can't you stick to the plan, Bollywood? All this time we witness our filmmakers rip-off Hollywood scene-by-scene but the minute they acquire rights, they are hit by an army of brainwaves or an insuppressible need to improvise (read flounder)."
"The keywords of this plot are simple: grand-scale gold robbery, fellowship of a highly-skilled team, successful execution, traitor in the gang, payback and a Mini Cooper-packed climax. Except this is Bollywood and a thief cannot be a thief for the thrill of it, he has have gracious motives like setting up the largest orphanage in the world.
Welcome to the world of Abbas-Mastan [ Images ]. They brothers-in-white stick to their set formula and staid sensibilities to helm this badly-botched up mess that takes bits of Michael Caine (1969) and chunks of the Mark Wahlberg [ Images ] (2003) version.
And so you know what kind of film it's going to be in the opening scene itself, which is more concerned with highlighting Johnny Lever's [ Images ] dilated pupils to squeeze any traces of leftover humour in place of some high-adrenalin action. If this wasn't underscored loudly enough, there's Vinod Khanna [ Images ] delivering what appears to be his worst performance since Eena Meena Deeka. Watch closely how the man burps in pain while taking a slug or two in one of Player's many involuntary hilarious scenes.
In the 2003 remake, the one Players takes most inspiration from, you learn about the bad apple in the gang quite early in the story yet it succeeds to keep its viewer on tenterhooks by its meticulous, shrewd planning, swiftly-executed blow-ups and chases and likeable characters. Moreover, even the most snazzy, escapist fare begs for characters you care about or root for.
Throwing light on details of how exactly an international heist is planned isn't a Players thing nor is tech wizardry. And so you have leading man Abhishek Bachchan [ Images ] scribbling gibberish on a map outline, akin to a bunch of red and blue markers dragged on a piece of paper by some school kid or explosives expert Sikander Kher finding the cheapest bit of circuit board with a shoddy LED bulb attached on to it by a crude cello tape to blow past high-security access. Let's not even get started on Sonam Kapoor's [ Images ] hacking expertise (Naina Virus alert, anyone?), Omi Vaidya's mask-making skills or Bobby Deol's [ Images ] illusionist tricks.
What you can rely on is the same old zigzag slyness that is more Race than Italian Job. Luckily the action sequences, while not many, aren't too bad. The train robbery brings back memories of Roop Ki Rani Choron Ka Raja whereas the classic Mini Cooper chase hasn't lost any of its charm and continues to regale even a lacklustre thriller like this.
Did I say lacklustre? That's also how I'd sum up most of the players of this rather long enterprise. For Abhishek Bachchan, the wise guy with a smirk, stubble and sun glasses, this is a role he can now play in his sleep. I have an inkling he is.
Then there's Neil Nitin Mukesh [ Images ], who at one point, wears more sequins than the ones on Bipasha Basu's [ Images ] dress. Poor guy, mistakes sinister for superficial, resulting in a truly phony performance. Basu, taking second billing to Sonam Kapoor, sets the tone for a hackneyed romance triangle, in a wardrobe that's scarcer than Players' imagination and role that's as foreseeable as, oh wait this IS an Abbas-Mustan movie.
But it's Sonam who truly entertains with her childish attempt to pass off as a Gold-medalist hacker. It's a challenge to take the star seriously when she's dressed like Sunny Deol [ Images ] and Dalip Tahil [ Images ] from Tridev. And there's a harmless Sikander Kher and stereotyped Omi Vaidya struggling to find a footing in this badly-written adaptation. At least Vaidya generates one genuine laugh out loud moment with his response to 'Sona kahan hai?' 'Itni badi jagah hai, kahin pe bhi so jao.'
Bobby Deol is the guy you relate too. He wears a pained expression throughout. It's the same look you walk out with at the end of this film.
Like Wahlberg said, no imagination.

Rediff Rating
"
Abhishek Bachchan
Bipasha Basu
Bobby Deol
Johnny Lever
Neil Nitin Mukesh
Omi Vaidya
Players
Rediff
Reviews
Sikander Kher
Sonam Kapoor
Sukanya Verma
Vinod Khanna