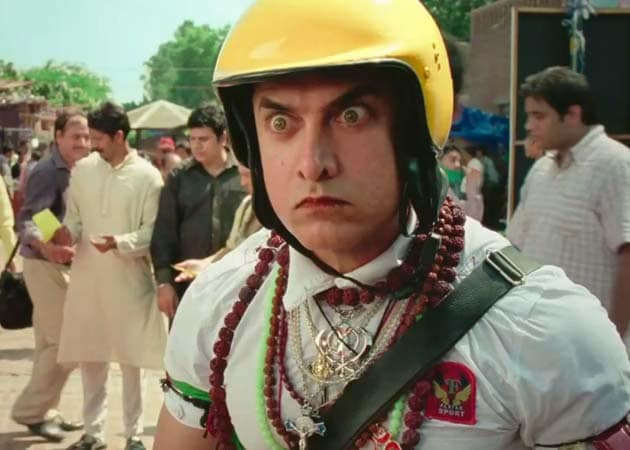 I hated the promos. Found Aamir Khan terribly over the top and retarded and I could never think Hirani can go above his juvenile comedic social commentaries.
That of course doesn't mean PK is flawless. It is far from it. But it is undoubtedly Hirani's most ambitious film where he has gone into somewhat serious mode which is devoid of comedy. But that it also what undoes this movie because satire was needed from start to the end. PK starts off with introduction of aamir like jadoo of KMG. There is lot of implausible sequences. Aamir as alien pk has no concept of clothing but they have built a spacecraft and have travelled the galaxy!The first 20 min track of the Anushka-Sushant is very boring and does nothing for the film. The film works when Aamir as PK takes over and the satire works quite well. The best sequences is the one where Aamir in his quest for his lost "locket" goes on God Hunting and goes past various religious practices in India. The visuals of blood letting in Moharram, the giant Adinath Bawangaja statue and so on gave me goosebumps.
Its the second half where the movie nosedives with virtually nothing to speak about. Aamir as PK questions our practices and superstitions but leaves it there. He never offers his perspective. This is where OMG was great in its message of donating money to poor instead of temples and how that makes God happy and not worshipping him by making statues.There is an elaborate sequence where the fake baba and Aamir have a one on one and it lacks the punch. There are no good arguments. Instead we have an offtrack telephone episode of Anushka with her Pakistani boyfriend. It is not relevant to the topic and by itself it probably added so that the movie does well in Pakistan and gulf countries.
Regarding the performances, I havent seen a more ugly looking actress than Anushka in my theater experience and just watching her on big screen I had to move my face away in her closeups. Aamir was playing the alien but she looked more like one with that Hanuman-like lips due to implants. Sushant doesn't have much role. Same for Boman. So it is the tinga tinga nanga punga Aamir Khan (sorry , i don't mean to abuse Aamir , i just happen to hate the song) which makes you sit through the movie. He is the soul of the film and his expressions, his dialogue delivery as bhojpuri are outstanding. Thankfully he was not playing a retard. This is one of his best performances or may be his best.
I don't know how much it will do at the BO. But its a film with the right intention and if not for the underwhelming second half, it would have been among my all time favorite films. It is still my favorite movie of this year.
Rating : 3/5
Tags:
Aamir Khan
Anushka Sharma
Member Reviews
PK
Raju Hirani
Reviews
RockstarBaba
Sanjay Dutt
Sushant Singh Rajput