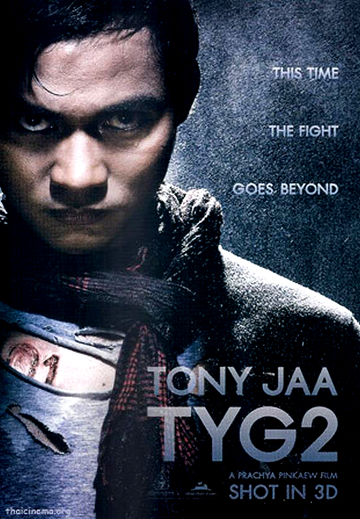 Presenting Tom Yum Goong 2 – at a theatre near you in 2013 :D…………..
Heads up fans of Tony Jaa: There are rumblings on several fronts from the upcoming Tom Yum Goong 2.
Up first is the new artwork, which you see to the left. It may seem a minor note but it's worth pointing out that Jaa is the only one featured on the new poster, which is a change from the earlier art which also featured co-star Jija Yanin prominently. I take this as a sign that the footage is turning out well and Yanin – along with Born To Fight star Dan Chupong, who is also in here – is no longer considered necessary to market and sell the film. This is a good ting for fans hoping for a Jaa rebound.
Second? Due to production delays the Thai release of the film has now been pushed back from its planned December release to May of 2013. Principal photography on the film began in August of 2011 and is still ongoing with Twitch learning that at least one international fighter has been asked to shoot scenes in Thailand in the coming weeks – we're waiting for word that contracts have actually been signed before saying who, but it's good – meaning that photography has now stretched out for well over a year but the end is reportedly in sight. Time will tell if that May release date sticks.
And, finally, Sahamongkol have confirmed that the RZA has joined the cast in what they call a 'featured' part. RZA tweeted from the set some time back and Thai media have reported his involvement – his Man With The Iron Fists stunt double Marrese Crump has been part of the cast from day one – but this is the first I've seen that confirmed from within the production company.
prachya pinkaew
tom yum goong 2
Tony Jaa