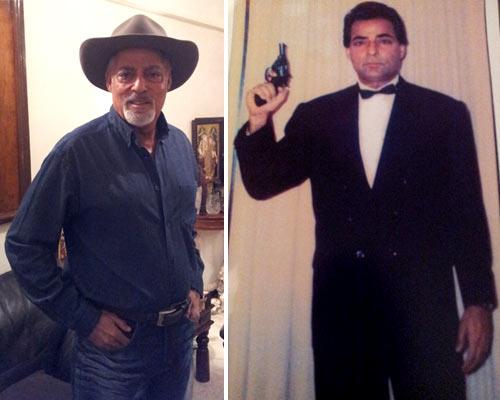 Back in 1977, an actor named Mahender Sandhu became a household name overnight when he starred in a super-hit spy thriller called Agent Vinod.
Thirty-five years later, Saif Ali Khan is set to bring the character back to celluloid in an uber-cool, highly stylised manner.
The new Agent Vinod co-stars Kareena Kapoor and will release on March 23.
Far from the bright lights of Bollywood, 67-year-old Sandhu spends most of his time on his farmhouse in Boisar on the outskirts of Mumbai where he is engaged in the construction business.
"People generally go to their farmhouses on weekends but I come to Mumbai over the weekend," quips Sandhu during a chat with Sonil Dedhia in his Yari Road flat in the western Mumbai suburb of Andheri.
He gives some frank and interesting insights into his own character which explains why he couldn't capitalise on the huge success of the original Agent Vinod, and what he thinks about its revival.
What was your first reaction to the news that Agent Vinod was to be remade?
Someone from Rajshri Films told me that Saif Ali Khan had approached them as he wanted to see my Agent Vinod. They gave him a copy of the film and also gave him the necessary permission to use the title.
I was really happy that a person like Saif was making Agent Vinod.
Do you remember the day Agent Vinod was released?
I was in Mumbai when it was released in 1977. At that time, good films would release in 20-25 theatres in Mumbai. The Barjatyas played it safe and released the film in one theatre — Geeta Theatre in Worli — as they wanted to see the reaction before slowly increasing the number of prints.
I was really disappointed and angry with them. People were going mad over the film and after a week of its release, it was put up in some other theatres too.
The Barajatyas couldn't cash in on the film and it also affected my career very badly.
It is also said that the Barjatyas wanted to create a franchise out of Agent Vinod.
Yes, they wanted to make a series of Agent Vinod films, but I was not happy with the way they treated the film. I voiced my concern to them and also decided not to work with them.
What interested you in the film that you agreed to the part?
(Sooraj Barjatya's father) Tarachand Barjatya was keen to do a film with me. He had offered me a film called Alibaba, which I refused. After some time he came back and offered me Zorro, which I refused again.
He then came to me with Agent Vinod and after reading the script, I couldn't refuse it. I really loved the way it was written and I was sure that the film would be a success.
Do you think you could have done better in the film?
There is no doubt that the film was a success, but, looking back, I think we could have done a better job.
There are scenes in the film where I am looking fatter than in the rest of the film. Unlike today's actors, we were not very health conscious. Hardly any actors frequented a gym. Actors were not aware of six-pack abs and having toned muscles.
Were you not able to capitalise on the success of Agent Vinod?
The film became a super-hit. Wherever I went, people recognised me as Agent Vinod but I couldn't capitalise on it. After the film released, it was the right time to get myself registered in the big league of actors. But instead of approaching filmmakers, I just sat back at home and would just do films that came my way. I was never a go-getter.
Also, I had no one to guide me so I selected a lot of wrong films, which didn't work at the box office.
I wanted to do only lead roles. I never wanted to play second fiddle to anyone. People laughed at me because I didn't want to do negative roles; I couldn't see anyone hitting me on-screen.
I was arrogant and would pick up fist fights and some of these incidents spoilt my name. The industry kept away from me.
The film was a remake of a James Bond film. Did you take any cues from that for your character?
Yes, we did. In those days, videocassettes were not available easily in India so a lot of big stars and writers would go to London, stay there for a month, and watch a lot of western movies and make them in Bollywood.
I am a big fan of James Bond films and I love Sean Connery. He was the real James Bond.
I picked up small details from the Bond films and incorporated them in my character. We had some punch lines that were similar to Bond's, and never-seen-before gadgets in Bollywood films.
When did you decide to become a director?
I was about to settle in Canada some time in the early 1980s when some of my friends advised me to direct films. I was reluctant but then tried to give it a shot.
Instead of making Agent Vinod 2, I started a film called Mujhe Vachan Do, which was produced with Shibu Mitra. Then I made a film called Kaun Kitne Paani Main, which was appreciated and lastly I made Kisme Kitna Hai Dum. I gave up after that.
Were there any films that were offered to you and you didn't take it up and regret it today?
Yes. I was offered Vinod Khanna's role in Haath Ki Safai and I rejected it for silly reasons.
First, producer Nadiadwala and writers Salim-Javed called me to meet them and I refused saying that if you want, come and meet me at my place. Second, Hema Malini and Randhir Kapoor featured above me in the credits and I wanted my name to be on the top.
Today, when I look back, I feel very silly to have rejected such a big film for stupid reasons. I think the film would have changed my life, and it did change my life (laughs sarcastically).
Do you think your own ego came between you and your career?
I would agree to a certain extent, but I don't regret anything. I have always looked ahead and found new avenues.
I did not take my career seriously. I took it for granted. I don't have any regrets about anyone else, but I have regrets about the decisions that I made.
Would you consider acting or directing in future?
No. I think a lot of water has passed under the bridge. Today I don't consider myself as an actor. I don't think I am going to get the same respect what I had when I was a lead actor.
My ego and my conscience don't allow me take up such work. My family thinks that I still have it in me, but…
You said you haven't watched a film in a theatre for more than 25 years. Why is that?
The streets have become so crowded that I don't like the idea of driving a car all the way to a theatre, finding parking space and waiting in a queue to buy a ticket.
There was a time when I would go and watch my films in theatres and would love the appreciation from the audience.
I loved people chasing my car and also getting fan mail. But slowly and gradually, everything diminished.
Are you in touch with any of the stars?
No, not really. I was in touch with Dev Anand. He was a very close friend of mine and we would often hang around together. I liked his company. He offered me a couple of films but I refused them.
He had offered me Amjad Khan's role in Des Pardes, but I could never imagine myself being hit by Dev Anand, even if it was on screen.
Is it true that the director Sriram Raghvan approached you for a role in the new Agent Vinod?
Yes, Sriram Raghvan offered me a cameo in the film. Initially, I thought I should refuse him as acting is a closed chapter in my life. But since they had approached me, I thought it wouldn't look good.
I said if there was something worthwhile then I would be ready to do it. I also gave them some suggestions regarding my character in the film. But he never came back after that.
Have you seen the promos of the film?
No, I haven't, as I don't see movies. I haven't visited a theatre in the last 25 years. I have heard that the promo looks good.
People have told me there is a scene where they are hitting Saif and asking him for his name and he says 'Mahender Sandhu'. (Smiles)
Do you think Saif Ali Khan would make a good Agent Vinod?
Yes, absolutely. He is good-looking and very stylish and suits the character perfectly.
I am sure Saif has made a good film. I am looking forward to watching it.
Are you in favour of remakes?
Writers today are short of stories and ideas and so they are remaking old films.
Personally, I'm not in favour of remakes. Films like Agneepath and Don have been very successful because Hrithik Roshan and Shah Rukh Khan have their own charm. But I feel why not come up with something fresh and offer something new?
Agent Vinod
Haath Ki Safai
Hema Malini
Mahender Sandhu
Original Agent Vinod
Rajshri Films
Randhir Kapoor
Saif Ali Khan
Salim-Javed
Sriram Raghavan
Tarachand Barjatya
Vinod Khanna