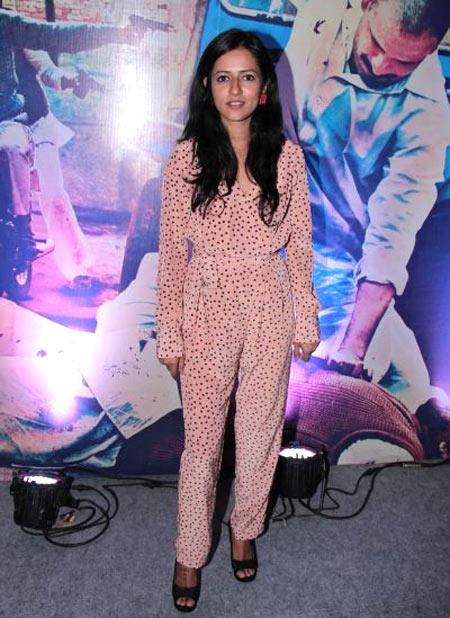 Sneha Khanwalkar's quirky songs, with their unconventional lyrics and and streetwise expression in Gangs Of Wassseypur, have become a rage amongst the youth. The music composer has become a hit with directors and fans, thanks to her innovative score in the film.
Instead of enjoying her moment of glory, Khanwalkar has moved on to other projects.
What was the brief given to you about Gangs Of Wasseypur by the director Anurag Kashyap?
I had just finished Love Sex Aur Dhoka somewhere in mid 2010. When Anurag met me for Gangs Of Wasseypur, the first thing he did was give me some research material and told me that he wanted the music to be like Bihar folk.
I took it as a challenge because I thought it came from a person who belonged to Bihar (laughs).
Did Anurag tell you why he selected you as the music composer?
I think Oye Lucky! Lucky Oye! was the reason. The voices that I had used for that film were very unique. It was my first solo attempt at music composition.
I believe Anurag has heard a lot of songs coming from Bihar and the areas surrounding it.
Weren't you scared having to compose Bihar folk music, something unheard of in Hindi films?
I liked the fact that it was unfamiliar territory. After Oye Lucky! Lucky Oye! filmmkaers were only offering me Punjabi-centric soundtracks.
I made a conscious effort not to stick around a particular kind of music as it would have surely stereotyped me. I want to work with directors whose work interests me and who are interested in working with me.
When I got GOW, I had no idea of Bihar folk. I had heard all those weird but interesting songs, which you must have heard on the internet.
What was the first thing that you did when you started composing music for the film?
The first thing I did for GOW was I went to Patna and landed up at All India Radio. It is the safest place to be if you want to get the taste of local music.
I called Anurag from there and I told him, "I'm in Patna, do you want to give me any tips? Is there anything specific you want?"
Being Anurag, he just told me, "Do whatever you want."
By now, travelling has become synonymous with you.
I want to get beyond the traveller tag. I don't just go to a place, record a song and come back. It took me two years to compose the music for GOW, out of which I spent four months on and off in Bihar.
I travelled to places like Patna, Darbhanga, Muzzafarpur, Gaya, Ranchi and Dhanbad. I also went to Benaras in Uttar Pradesh.
I would record some things that I needed from a particular place and come back to Mumbai. When I needed something else, I would go back and do another recording.
For the Hunter song, I requested Anurag to let me go to Trinidad and Tobago where I spent almost 45 days.
It's a little bizarre that you actually have a song (Hunter), which is composed in Trinidad and Tobago for a film which is set in the hinterland of Bihar.
I had heard about Bhojpuri Caribbean chutney music. It fascinated me. A lot of people from Bihar had migrated to Trinidad and Tobago and when I asked Anurag, he instinctively allowed me to go to the West Indies.
You won't believe it but I thought of going to Trinidad and making a career doing chutney (music) for some time. I was very attracted to these songs and I wanted to use it in one of my movies.
Is it necessary to travel to places to get the sound right?
I was brought up in Indore and didn't get to travel enough. So I felt I had a chance to double it as my work.
I don't really go to research or do homework. Who doesn't like a paid vacation? (laughs).
Did Anurag give his inputs?
The best part was there was no baggage from Anurag. He gave me complete freedom.
I was a little nervous because I thought if I don't understand anything, what will I do? He is a no-nonsense director who gives complete freedom. He likes to come in at the end.
I would compose a song and make him hear it. If he wanted any changes he would tell me where to tweak it.
The songs of the film are unlike any other Hindi film songs. How were you so sure that the music would appeal to the audience?
My testing ground was Anurag Kashyap and some people in his office.
Although I agree that the music sounds different, people can still hum it. The response to the music of GOW-1 has been tremendous. When I came back from Trinidad and Tobago and made Anurag hear the Hunter song, I could see that he was able to relate to it.
When I was travelling extensively in Bihar looking for new voices, I would listen and think of my friends back in Mumbai and whether they would like it or not.
How did you rope in an ensemble of unusual singers for this album?
When I went to Jharkhand, Bihar, I didn't call up people who were singing in the Bhojpuri industry. I just went to these places, stayed with the locals, and got a sense of the sounds around me.
I did it during Oye Lucky! Lucky Oye! and discovered some really interesting singers.
So you randomly come across people and go by your gut feeling?
Yes. I randomly met singers, recorded whatever I could, then came back to Mumbai to think over it, sitting with the lyricists, make something with it, and play it for Anurag.
If he approved it I would sometimes go back to re-record the original tunes and lyrics for the songs.
The two parts of GOW have 25 songs. Have you exhausted your song bank?
You have no idea. I can do thousands of songs for a film like GOW (laughs). I will exhaust myself but I don't think my bank of songs will ever get exhausted. I have a lot of ideas.
Let me tell you something I haven't told anyone. Wasseypur could have easily had 35-40 songs but we purposely put aside around six to seven songs because we didn't want to forcefully fit them in.
A lot of musicians that I have worked with will agree that Wasseypur is not an album; it is a project for all of us.
You are currently the only female music director in Bollywood.
Yes, a lot of people have told me that. I think the music scene in India is still very vague. A lot of people are still clueless about what a music composer does. I knew I had to struggle in the industry because I had no experience nor had I assisted anybody from the industry.
I became a music director because I thought otherwise I'd have to become a singer. I didn't want the pressure of going for singing competitions or struggling.
Anurag Kashyap
Gangs of Wasseypur
Interviews
Love Sex aur Dhoka
Oye Lucky Lucky Oye
Sneha Khanwalkar