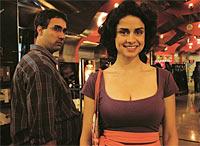 There's always been a rather charming old-Hollywood naïveté to Rajat Kapoor's films, films that side affectionately and unflinchingly with his characters, indulging his leads more than he does the audience. Which is why Fatso — ripped off from Alexander Hall's Oscar-winning 1941 film Here Comes Mr Jordan (and stolen by us before with 1968's Jhuk Gaya Aasman) — seems quite his speed.
Tragically enough, the film doesn't stick to the guns the concept inherently offers. The basic idea is a fine one, offering both room for smart humour and murky moral ambiguity, but while Kapoor and his (mostly) competent cast sharply enough conjure up some smiling moments, the film squanders the most potentially thrilling aspects of the idea and leaves us with something half-baked. It goes from fantastical to formulaic, and, to be honest, there isn't even a relevant reason for the hero to be fat — that decision ending up as ignobly as a movie poster gimmick.
Freewheeling Naveen (Purab Kohli  is in love with Nandini (Gul Panag), but after a road accident where Naveen's rotund friend Sudeep (Ranvir Shorey) was meant to die but Naveen himself is escorted to the highly sarkaari afterlife, he has to come back in Sudeep's body. There is so much to mine here for comedy and conflict, but the film keeps letting the interesting bits — like Brijendra Kala's hilarious death-peon — slip away as it becomes lazier and loses its edge.
Kohli is embarrassingly weak here, struggling to keep a straight face. Gul, reliable as always, is one of our few actresses who pulls off English lines credibly enough, but is here given an odd character (one who appears to fall for pretty much anyone who shows interest) and very weak lines. The incredibly likeable Neil Bhoopalam works well even as a stock Reggie Mantle, but this film is about the guy in the fatsuit.
Perhaps one shouldn't be perplexed that Naveen didn't care an ounce for his friend Sudeep having to die in front of his own eyes so he could step into his body, simply because the character was justifiably, overwhelmingly gratified at coming to life as an actual actor instead of, well, Purab. Ranvir delivers a standout performance, never once letting his portly protagonist become a caricature. It is a simple, disarmingly earnest performance, and Shorey creates a hogging hero hard to resist.
Things fall into place with ridiculous convenience at the end and yet Ranvir, with a bizarrely breathless soliloquy on loving life, more or less saves the moment.
It's a fine performance, and one that deserved a better script around it.
Rediff Rating:

Tags:
Fatso
Gul Panag
Here Comes Mr Jordan
Jhuk Gaya Aasman
Neil Bhoopalam
Purab Kohli
Raja Sen
Rajat Kapoor
Ranvir Shorey
Reviews