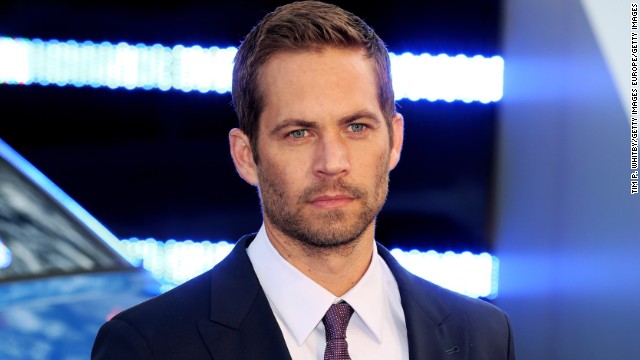 Actor Paul Walker, who shot to fame as star of the high-octane street racing franchise "Fast & Furious," died Saturday in a car crash in Southern California. He was 40.
Walker's publicist Ame van Iden confirmed his death, but said she could not elaborate beyond statements posted on Walker's official Twitter and Facebook accounts.
Walker was a passenger in a friend's car and both were attending a charity event for his organization, Reach Out Worldwide, in the community of Valencia in Santa Clarita, about 30 miles north of Hollywood.
The website for the charity said the Saturday event was intended to benefit victims of Typhoon Haiyan in the Philippines.
The crash took place about 3:30 p.m. (6:30 p.m. ET), about 300 yards from the office park where the event was held.
The Santa Clarita Valley Signal, citing a sheriff's deputy at the scene, said a red Porsche appeared to have lost control.
First responders gather evidence at the scene of the crash. First responders gather evidence at the scene of the crash.
Photos: People we lost in 2013 Photos: People we lost in 2013
Deputies arrived at the scene to find a vehicle on fire, the sheriff's department said in a statement.
Once fire crews put the flames out, they found two occupants, both of whom were pronounced dead at the scene.
Saturday evening, all that remained was the burnt mangled metal of the car and a light pole that had been knocked down.
Box office success
Walker's career began on the small screen, first with a commercial for Pampers when he was 2, and then with parts in shows such as "Highway to Heaven" and "Touched By An Angel."
His first few movie roles were as supporting characters in teen flicks, most notably in "Varsity Blues."
His career really took off when he was cast as undercover cop Brian O'Conner infiltrating a street-racing gang in 2001's "The Fast and the Furious."
The box-office success of the surprise summer hit yielded numerous sequels. And along with Vin Diesel, Walker was one of the franchise stalwarts.
At the time of his death, Walker was working on the seventh film of the franchise, due out next year.
On his verified Twitter account, Walker described himself as "outdoorsman, ocean addict, adrenaline junkie … and I do some acting on the side."
Walker also is the star of "Hours," an independent film scheduled to be released December 13 about a father struggling to keep his newborn infant alive in the aftermath of Hurricane Katrina in New Orleans.
News
Paul Walker
The Fast and the Furious