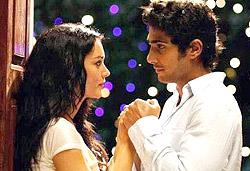 A few minutes into Gautham Menon's latest film the leading man (Prateik Babbar) is shown seated in a church, muttering to himself, "Mujhe Jessie Se Hi Kyon Pyaar Hona Tha? (Why did I have to fall in love with Jessie)".
The leading lady is at the altar, waiting for her groom. The audience is expected to hold their breaths, as the flashback unfolds. Not the most original beginning for a love story.
While there are directors who dig relentlessly for a new theme around which a rom-com can be built, there are others such as Gautham Menon who believe old cliches are the best plot points for a love story. For starters, the girl is a year older to the boy. Then they come from different religions. The boy is a passionate movie buff, hopes to make a career in films. The girl's family doesn't even watch films. The girl's brother is a toughie who needs an excuse to start a fight. But there is something called love at first sight. You get the drift.
Prateik Babbar plays Sachin — the quintessential Maharashtrian middle-class romantic. He watches films, mooches off his older buddy Manu Rishi. Amy Jackson plays Jessie, the 'docile' middle-class girl who dutifully sets off for office each morning with her laptop bag and immaculately draped sarees. Prateik's career hasn't really taken off so he spends his days planning on how he can bump into Jessie. The 'accidental' meetings which happened at bus stops through the '70s and '80s now happen at the closest Mcdonalds.
It's a slow screenplay where the director hopes to convey the couple's despair with their inability to come together. For a scenario like this, performances must be superlative to engage the viewer. Each glance, every gesture must speak for itself. It is here itself that Ekk Deewana Tha fails to deliver.
Prateik Babbar has considerably beefed up his body since Jaane Tu [ Images ] Ya Jaane Na days and doesn't look like a fresh twenty-two year old love-stricken graduate. He tries hard (maybe a little too hard) but eventually all he deserves are brownie points for his efforts rather than his acting abilities.
Amy Jackson, with a digitally altered skin tone, lacks the sizzling sensuality most South Indian gals are blessed with. What comes across is a mass of wavy black hair which needs to be oiled or combed. Ideally both. Where is the angst a young girl goes through when she must choose between her father or the man she loves?
Given their limited acting abilities, they just do not come through as a couple. And with the spark missing, the innumerable tiffs and make-ups and casual kisses just serve in endlessly prolonging the film.
Manu Rishi in his small role as Prateik's friend-philosopher-guide is great fun. The few laughs one enjoys are the times when he is on screen. A R Rahman's [ Images ] music doesn't make an impact.
Good cinematography and great locations in Kerala [ Images ] make some portions a visual treat. Another redeeming factor is the absence of item songs and unnecessary sub-plots.
Ekk Deewana Tha is the Hindi remake of Gautham Menon's Tamil film Vinnaithaandi Varuvaaya which was a huge commercial hit. Somewhere, something obviously got lost in translation.

Amy Jackson
Ekk Deewana Tha
Gautham Menon
Prateik
Rediff
Reviews