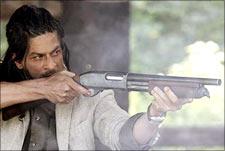 "We've come a long way, baby. The first time we met Ethan Hunt in 1996's Mission Impossible, our local movie theatres were playing an Akshay Kumar [ Images ] actioner in which he mud-wrestled with Rekha [ Images ] and fought an Undertaker knock-off. Fifteen years on, Tom Cruise [ Images ] comes to India [ Images ] to promote Hunt's latest adventure, seven days after which we find Shah Rukh Khan [ Images ] hanging upside down in a chamber with a pressure-controlled floor — just like Hunt did in that first Brian De Palma film. And here's the cool thing: Farhan Akhtar [ Images ] makes it just as slick.
Don 2, Akhtar's latest, is a glossy, unashamed action offering polished within an inch of itself, visually coming together seamlessly and effectively. The floors shine enough to reflect stampeding boots (which also shine), explosives obey their detonators, guns click into place with satisfyingly precise and appropriately amplified CLICKS, cars chase each other with murderous grace, and the bad guy — when not wearing a pretty face — is clad in white and reluctant to kneel because of the potential punishment to his trousers."
"So yes, a very impressively produced film indeed. Akhtar's hero has never looked better — as evidenced by the lovely girl in the seat next to mine gasping louder and louder — and, unencumbered by the lack of a classic film to be compared against, both director and actor are visibly liberated, having a blast making this film about a slimy (but shiny) antagonist who wants nothing to do with redemption. And this is vital, for in a film where it's clear that the stakes of the story are lower than the costs of its production, what hooks the audience is the opportunity to see an assured director and a superstar genuinely enjoying themselves — like Steven Soderbergh and George Clooney [ Images ] in the Ocean's Eleven series, for example. (By the by, that also happens to be the only other example I can come up with for a remade classic that spawned its own independent franchise.)
Imagine, however, Ocean's Three. Where Clooney was given not just his own lines, but all of Brad's and Matt's and Elliot Gould's, leaving supporting actors to stand and stare while he did his own thing. I'd have to admit that still sounds charming on paper, and this version of it could have been, if only Shah Rukh Khan hadn't also decided to boast about the fact that he has the best lines. There is a degree of over-the-top acting suited to a role and genre like this, but Khan slaughters his lines (and Akhtar's given him some fine, fun ones) by deliberating over each of them and delivering them fatally overbaked, pausing long enough mid-punchline to sneer and smirk, and then waiting after the line to allow us a moment to laugh or whistle. That self-sure smugness asphyxiates the dialogue and robs it and Don, the character, of his coolth. Leaving us with a good-looking caricature of an actor, one that needs now to be reined in.
Yet even this hammy hubris isn't the film's fatal flaw. It's evident in the very first few minutes that Khan is going to chew scenery like a particularly ravenous goat, but he does it with flair and it's hard not to be seduced by the perfectly manicured film Akhtar builds around his star. It is as the film goes on that it becomes painfully clear that while the film gives us a memorable villain, there is nothing that stands in his way. It's the genre of the cat-and-mouse chase, and while we always watch despite Jerry invariably beating Tom, here there is no feline worthy of usurping Don's cream — leaving us with a King Rat, never imperiled, never really challenged, more than free to proclaim himself lord of the cheese.
Which means the film soon flattens out into inevitable boredom, the climax dragging on and on (and making me long for a secret scarlet diary). Boman Irani [ Images ] has perhaps two good scenes in the film; Priyanka Chopra's [ Images ] screen-eclipsingly large lips do more than she does (possibly because her character is such a wishy-washy bore, straddled with bad lines and an incompetent assistant); Lara Dutta [ Images ] reminds us that she has a nice smile and can speak in English without making us wince, unlike most of our girls; A man in a scenestealing cameo makes us wish he could speak in Khan's voice; Kunal Kapoor [ Images ] predictably has trouble keeping a straight face; and Om Puri [ Images ] better have gotten paid well. But none of them matter, for this is one man's film, and he — like the film itself — looks really good, but ends up being a drag."
Rediff Rating: 

Boman Irani
Don2
Farhan Akhtar
Priyanka Chopra
Raja Sen
Reviews
Shah Rukh Khan