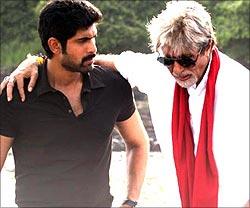 A scene from DepartmentRam Gopal Varma's [ Images ] Department takes his increasingly schizoid cinematographic tendencies into a whole other league, and gives us, besides watery eyes and potential nausea, the filmmaker at his most insipid, writes Raja Sen.
If Ram Gopal Varma were to film me writing this review, I assume he'd start with a tight close-up. First of my eyes watering from his new film's assault, then a series of jump-cuts showing me massaging temples, yawning, cringing in my seat, then — abruptly — a slow-motion walk to my writing desk.
Next come the feet, close enough for the viewer to nearly feel my big toe, feet that tap furiously as I compose my opening paragraph, and — after a series of intercuts between tapping feet and furrowing brow, set to a blaring background score — there'd be a slow pan from toe to knee to torso to hands, on keyboard. Then shots of fingers hammering out words (these very words! How meta!) and then, because all I'm going to now do is write, alas, the camera will overcompensatingly vault around me in great big showy swooshes, up and down and upside down, simply because, well, it can.
However, as the above paragraph makes abundantly (and, hopefully, to aid my point, migraine-invitingly) clear, there's no point going loony with a camera — or, indeed, several — merely because the technology allows for it. Varma's latest, Department, takes the director's increasingly schizoid cinematographic tendencies into a whole other league, and gives us, besides watery eyes and potential nausea, the filmmaker at his most insipid. With barely a storyline, the new film is but a random assemblage of fight scenes, which would, in itself, work if crafted well. Alas, Varma's insistence to shoot every scene with a half-dozen cameras slows everything down and constantly distracts the viewer with repellent angles and needless tracking shots.
An experiment this may well be, but it is a pointless one. Uninspired scenes are slowed down and fed to us through staggered shots in wildly varying resolution — one shot showing you every hair on a flabby chest in hideous detail and the next looking like it were shot with a cellphone — and while it must be liberating for Varma to not worry about storyboards (or even stories), this cannot possibly be taken seriously.
A good-cop old-cop film, Department features Rana Dagubatti as a renegade police officer who enjoys shooting unarmed people. One day, a minister — standing next to an ill-cast Sharad Pawar [ Images ] clone in incredibly ill-cut trousers — decides that loose cannons are good for the police force, only not officially. He asks paunchy maverick Sanjay Dutt [ Images ] to round up the fiercest and most lawless coppers to take on the underworld on their own terms and do what cops can't legally do, giving them a carte blanche License To Kill, so to speak. This evidently involves bringing in Deepak Tijori [ Images ], hiding his face behind a Hulk Hogan moustache.
Dutt also brings in Dagubatti, a bro from back in the day when terrorists held 40 blind schoolkids hostage and the cops just decided to charge at everyone, guns blazing. We see close ups of handshakes denoting the official birth of The Department, and their first action is a violent game of 'let's go profiling,' the sweaty edition. They kill a bunch of people, and the next day Dagubatti emerges a public hero, his exploits lauded by banner headlines. So much for the Department operating out of the radar. And it gets more nonsensical from there.
Nobody acts in the film save Vijay Raaz [ Images ], but that's only because he can't help it. Amitabh Bachchan [ Images ] shows up and lets his hair down, knowing he's playing jester at a bad birthday party and might as well have a good time. He hams it up gloriously but the cameras — zooming dramatically in on a teacup or a sucked-on kulfi — rob him of whatever rascally moment he can conjure. Dutt wheezes through the proceedings, proceedings that focus persistently on his wrinkly eyebags, hoping his baseball cap will help him look the part, while Dagubatti valiantly keeps a straight face. Abhimanyu Singh is straddled with awful clothes and the most painful moll in cinematic history, while Tijori's hair and facial shrubbery alters dramatically from scene to scene.
And somewhere in the middle of things stands the attractive Lakshmi Manchu, delivering dialogues as if reading off a Hindi teleprompter.
Varma, predictably, has fun with a couple of quirky lines — especially one that blatantly introduces Nathalia Kaur's item number, a cameltoe-y milestone for Bollywood — and a scene with the camera mounted on the striker on a carrom-board is genuinely imaginative, but Department is an utter waste.
The director who showed us how to film violence is now sucking basic action scenes of their dynamism, leaving them dry and dead, but filming his movie's carcass from multiple angles. Tragically enough, Satya [ Images ] and Shiva are just names of characters for the new Ramu.
Rediff Rating:

Tags:
Abhimanyu Singh
Amitabh Bachchan
Anjana Sukhani
bollywoodhungama
Department
Madhu Shalini
Raja Sen
Ram Gopal Varma
Rana Daggubati
Rediff
Reviews
Sanjay Dutt
Vijay Raaz