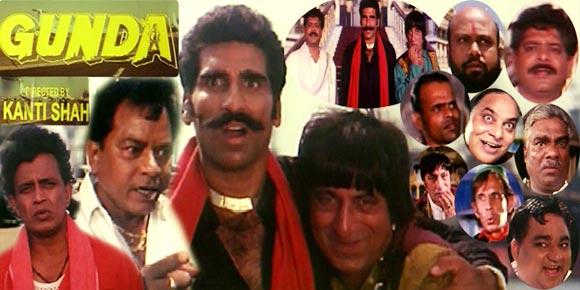 I first saw Gunda in 2006, a good eight years after the film had released. I was befuddled by the collection of bizarre scenes and acting sequences but, surprisingly, I was piqued too.
With a done-to-death story, the only highlight of the film was its sheer randomness coupled with some funny dialogues. Before I realised it, I too became one of the zillion fans of Kanti Shah's films.
Often celebrated for the 'they-are-so-bad-that-they-are-good' phenomenon, Kanti Shah's films have created a cult of their own and the filmmaker, popularly known as the king of C grade films, knows it.
In fact, when I asked him about the success of Gunda, he proudly proclaimed, "Gunda's rating on IMDB (Internet Movie Database) is 7.6 which is higher than Shah Rukh Khan's Ra.One (4.5), Vidya Balan's The Dirty Picture (6.9), Ranbir Kapoor's Rockstar (7.3) and many other superstar films. This is the inheritance of Gunda."
Apart from Gunda, his films Loha, Kanti Shah Ke Angoor, Daku Ramkali, Shaadi Basanti ki Honeymoon Gabbar Ka, to name a few, have all been successful.
In this interview with Sonil Dedhia, Shah explains with refreshing candour his penchant for sex in all his movies, why he does not agree with the C grade categorisation of his films, and the reasons for casting his wife, Sapna Tanveer, as the leading lady in all his films.
People know you for your films but not much is known about your background.
I grew up in a middle class family. I stayed in Juhu with my parents and my brother and sister. I studied till FYJC only. I didn't like studies so I left it.
My parents were very angry and told me to start working so I started working as a car mechanic, which lasted for six months.
Then I started buying pillow covers and handkerchiefs from Ulhasnagar and sold them outside Santa Cruz station. I did this for a year.
After a while a friend, Ragunath Singh, hired me as his production assistant. This was somewhere in the year 1979, and since then there was no looking back.
Your films are categorised as C grade films. Does that bother you?
I don't feel bad when people call my films C grade films. Even if I fight for it my film is not going to become an A grade film. I believe all films are the same.
I know I have an audience that enjoys the kind of films I make. The perception of the industry is very wrong. They feel low budget films with non starrers are all B grade or C grade films.
The industry and audiences think that just because a film is publicised a lot on television and in newspapers, the film is A grade.
According to you, which category do your films fall in?
I think all my films are A grade. I am saying this because all my films have worked. The fact that so journalists want to come and want to take my interviews means that people want to know me and read me.
Your films often have eroticism and sex. Did you always want to make these kinds of films?
I can say my thoughts are my inspiration. I always thought of making action based films. I have made sex based films but these films are all the actions of my thoughts.
When you ask me why I make films that have temptation scenes, it is because my producers who invested in me need to earn something. The distributors also need money to survive and at the end of the day, everyone in the industry has to make money. No one does any charity work.
Were watching erotic films a part of your movie viewing while you were growing up?
Yes, I used to see erotic films, which were mostly made in the South and Hollywood. I liked them. The way it was shot and the storyline would engage me.
I believe men and women are the same when it comes to watching erotic material and getting aroused.
I am sure everyone has seen a porn film at least once in their life.
Did you always want to be a filmmaker?
I never thought of getting into films. It just happened. It was a natural progression. I had to struggle a lot to reach where I am today. I had a burning desire to work hard. I have always given my 100 per cent to whatever I do. I could learn things very easily.
Most of your films have a lot of sex and temptation scenes. Do you think they are necessary for a film?
Yes, I think it is necessary. There are times when Salman Khan or Akshay Kumar's films don't work.
Just recently Housefull-2 released. There is nothing in the film that makes anyone laugh. Still, it worked. The film had a huge star cast and there are beach and resort scenes in the film, which have purposely been added because all the actresses are shown wearing skimpy clothes and bikinis and this is what people want to see.
Look at the way actresses are shown in Raj Kapoor's films like Satyam Shivam Sundaram, Mera Naam Joker or Raam Teri Ganga Maili. This is because we have to take the masses into consideration.
Your films have also been called pornographic.
(Laughs) My films are not porn films. I don't know why people call them that. I agree there are some seducing scenes and erotic scenes but that doesn't count as a porn film.
But the sex content in your films is very much visible.
Sex content is there in my films and I proudly say it. Today I don't think there is any film that doesn't have sex content.
When I started making films 20 years back I was the only one who made these films and they all worked. They still work.
I didn't have Amitabh Bachchan to sell my films. Today the only person who can beat Salman Khan is Zarine Khan and that is because of her sex appeal.
So you are saying that if you don't have a big actor just add some sex content and the movie will work?
Yes, and I think a lot of people would agree. Why do you think the makers of Bigg Boss roped in porn star Sunny Leone? She was not portraying herself as a saint. She was there to get the viewers' attention with her sex appeal.
Today, most magazines sell because they have actresses posing in bikinis on the cover.
I don't understand the relevance of actresses in short dresses or bikinis selling tea or deodorants in advertisements. At least my films make sense.
Today, every filmmaker gives preference to girls over boys when it comes to giving a break in films.
Do you also give more chances to girls over boys in you films?
Yes, I also give it. I will agree that girls have got more breaks in my films than guys. I am not a gay and it is a natural progression to get attracted towards women.
What convinced you that the films you were making were working for you?
My first film Maar Dhaad was with Mandakini, Navin Nischol, and Sadashiv Amrapurkar, in 1988. It was an out-and-out action film and did well.
After that I made some films with Dharmendra which also worked.
People have a misconception that I only make sex-based films. I have made more than 50 horror films and more than 40 action films.
A lot of critics have found Gunda to be the worst film ever made.
These critics are all educated people but still don't understand what the audience wants in a film. These people will appreciate a film like The Dirty Picture but if I make a seductive film they will find it crap.
I make movies that have all the basic ingredients that people would like to see in a film.
Gunda is not about a hero, it is all about the villains. There are so many villains in the film. I don't make films just for the sake of making them. The characters in my films have a metaphor.
But your dialogues have lots of expletives.
No, they are all double-meaning words and I am not the only director who openly says that I am doing it.
Last year we had a song, Bhag D K Bose from the film Delhi Belly. Everyone knows what the song meant but Aamir Khan was acting as if he didn't know the meaning of it.
The way a word is said makes a lot of difference. My dialogues are similar. They are purposely twisted. My films have been a standout because of the dialogues.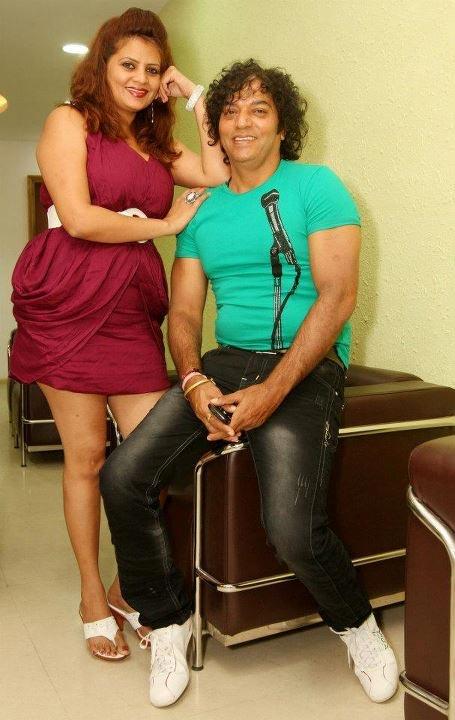 How has the multiplex culture affected your films?
I am badly affected by multiplexes. My films cater to single screen cinema. Earlier, when there were single screen cinemas I could reach a wider audience because I could release the film in a lot of theatres.
I don't think anyone will spend Rs 300 to watch my films. I target the people who want to watch entertaining cinema. I can't say that I can cater to multiplex audiences because they would not like to see my films.
Your films don't have a big market in big cities, so where do you recover the cost of your films? How much money is required to make a film?
The budget depends entirely on the cast and the location. On an average, it can be anywhere between Rs 70 lakh to Rs 1.5 crore.
Currently I am making a film called Kaatil Ishq, which has a budget of Rs 70 lakh.
Most of the recovery happens from small towns in the North. The films also do well in the interiors of Rajasthan and Madhya Pradesh. Also, I recover some amount from DVD sales and some films also make it to overseas. Most of the time, I make double the amount that I invest in making the film.
Your wife Sapna Tanveer has been the leading lady in all your films. Does it not look odd to cast her in such roles?
Even Salman Khan works in his brother's films. Shah Rukh Khan only works with Yash Chopra and Karan Johar. Aamir Khan is making films for himself.
Acting is my wife's passion and if I will not cast her, she will go out and work with other filmmakers. Rather than working outside it is better that she works in my films.
She also helps me with other things in my films. She does a fantastic job. I don't think I should be ashamed of casting her in any of my films.
When and how did you meet her?
I met her right outside my office in Andheri. She wanted to become an actress. My film Loha had released in 1997 when she met me. I made Gunda after Loha and that is when I decided to cast her.
Slowly and steadily I cast her in all my films and we started liking each other. We stayed together for seven years and we got married in 2004.
Did the thought of making films with A-list actors never cross your mind?
I have around 10-15 films with Dharmendra, 10 films with Mithun Chakraborty. I have also worked with Govinda and Manisha Koirala.
Actors today demand high fees. I don't think any producer is ready to put so much money in my films. Making a film is not difficult as anyone can do it.
Understand one thing: I am not a Yash Chopra who has made an empire and is working with big superstars.
Look at Sanjay Leela Bhansali. He made Saawariya and Guzaarish, which were so expensive, and both the films bombed at the box office. Now he is sitting at home.
Subhash Ghai also made so many hit films but now, after giving four flops in a row, he has stopped making films.
But then these people started from scratch and have made some blockbuster films.
If I think a lot then I would not be sitting here and giving an interview. Subhash Ghai wanted to become an actor and ended up directing films. There are so many people who are still struggling for the last 10-15 years.
I believe fate also has a big role to play. Ramesh Sippy, who made one of India's biggest films, Sholay, has not directed a film for almost 20 years now. Look at how the careers of people like Prakash Mehra and Manmohan Desai ended.
Are you still in touch with Dharmendra and Mithun Chakraborty?
Yes, I am, but not on a regular basis.
https://www.rediff.com/movies/slide-show/slide-show-1-interview-with-kanti-shah-films-are-not-porn/20120725.htm
Tags:
Aamir Khan
Akshay Kumar
Daku Ramkali
Delhi Belly
Dharmendra
Govinda
Gunda
Guzaarish
Housefull 2
Interviews
Kanti Shah
Kanti Shah Ke Angoor
Karan Johar
Loha
Manisha Koirala
Manmohan Desai
Mera Naam Joker
Mithun
Prakash Mehra
Ra.One
Raam Teri Ganga Maili
Raj Kapoor
Ramesh Sippy
Ranbir Kapoor
Rockstar
Saawariya
Salman Khan
Sanjay Leela Bhansali
Satyam Shivam Sundaram
Shaadi Basanti ki Honeymoon Gabbar Ka
Shah Rukh Khan
Sholay
Subhash Ghai
The Dirty Picture
Vidya Balan
Yash Chopra