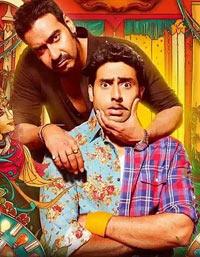 Lying needs imagination. Whether you're fabricating, exaggerating or distorting the truth. And the much loved filmmaker Hrishikesh Mukerjee showcased the art and wit behind this theory to perfection in rich comedies like Chupke Chupke, Naram Garam and Gol Maal.
His protagonists were legendary fibbers, engaged in harmless pranks or making up a pack of ingenious lies to tackle a recurring target — the eccentric elderly.
These are revered realisations that need to be preserved not tampered with. Except show is seldom spelled without business in this industry and even the most special films are sacrificed as fodder for inferior creativity.
But if you can desensitise yourself to this disconcerting trend, enjoying the chowmeinisation of Mukerjee's zestful, feel-good Gol Maal by director Rohit Shetty will be no trouble at all.
Like this year's Players and Agneepath, Bol Bachchan is not an exact replica of its celebrated source. Fox Star Studios purchased the rights but co-producer Ajay Devgn [ Images ] realised he 'cannot compete' with the original and said this is their way of paying 'tribute.' Although if your translation skills are as garbled as Devgn's character in the film, this could be decoded as yet another potential 100 crore feather in his cap.
Shetty picks up all the major plot points of the original only to alter it with his boisterous, cheesy, slapstick and visually flashy sensibilities, known to work hugely in his favour given the success of the propitiously titled Golmaal franchise. Unlike the Utpal Dutt-Amol Palekar starrer, however, Bol Bachchan isn't an out-and-out comedy throwing in large-scale action and irksome melodrama.
Bol Bachchan opens with a flamboyant title song featuring an ebullient Amitabh Bachchan [ Images ] (in a guest appearance) along with the caper's main leads – Ajay Devgn and Abhishek Bachchan [ Images ] in costumes that glitter more than Tinker Bell's lifetime supply of pixie dust.
The razzmatazz is followed by some lacklustre writing that establishes Bachchan Jr's Abbas and sister Sania (played by Asin [ Images ]) as a pair of siblings left in dire conditions after losing their ancestral property to a relative. Following an advice from family friend Shastri (Asrani [ Images ] doing what he does in every Priyadarshan [ Images ] movie), the trio and the soon-to-ensue trickery shifts to Ranakpur, Rajasthan [ Images ].
Why they don't rent a place and try looking for a job in the city? Whether they are formally educated are questions I don't even dare ask. Once in Ranakpur, Abbas and Sania are introduced to an army of characters.
There's the brawny wrestler cum influential village lord Prithviraj (Ajay Devgn), his sister Radhika (Prachi Desai [ Images ]), his sidekick (a typecast Neeraj Vora), his villainous, property-disputing cousin, Asrani's son Ravi Shastri (Krushna Abhishek is part funny, part uncontrollable) and his nautanki band (a nice touch there as they keep reenacting strategic scenes from the 1979 classic).
Within minutes of arrival, Abbas heroically rescues a boy from drowning against Amar Mohile's earsplitting background score and is immediately taken under the wing by the mildly foolish Prithviraj as his accounts overseer.
Hitch? Abbas conceals his religious identity and introduces himself as Abhishek Bachchan. Yes it is the sort of film where even that's worth a titter and Ravi Shastri is a joke. (Okay, so maybe there's a little truth in that.) Moreover, implying a Hindu-Muslim prejudice seems irrelevant when Shetty isn't interested in portraying anyone as an intolerant type harping on secular sentiments like 'Ram in Ramazan and Ali in Diwali [ Images ].'
Just when Shetty's excesses begin to tear my hair away from the scalp, Bol Bachchan, finally, decides to redeem all that money it spent in buying the copyright. Even if the circumstances that lead to Abbas/Abhishek slipping into yarn-weaving mode are never too compelling, it's a relief to see the lie go places and wrap up its unjustified two hours, 35 minutes running time.
Also, as the gap between the real deal and the ordeal widens, one begins to take in the farce for what it has to offer.
Like the fake mom shopping with Archana Puran Singh [ Images ] (the lady resists her hamming tendencies to an appreciable degree and actually does well as the bogus version of her kindly predecessor), or the multiple mommas gag to follow soon after or Bachchan's hilarious boogie on a medley of songs ranging from Mere dholna (Bhool Bulaiyaa), Darling (7 Khoon Maaf), Ooh la la (The Dirty Picture) and DK Bose (Delhi [ Images ] Belly) or the pre-climax, Karz-inspired gig, it's all very silly and droll.Not all of its humour is on the inoffensive side what with the numerous innuendoes, crude gestures and frequent suggestions of homophobia.
The heroines are restricted to bleh, sisterly parts with precious little to do leaving Archana Puran Singh as the only lady in the cast making some kind of impression. Been a while since we last saw Ms Braganza in her element.
Bol Bachchan primarily concerns itself with its leading men and their blundering equation. They even redo an iconic moment from the original, which would warantee a good laugh at Comedy Circus (judged by Shetty)but gets a half-smile nonetheless.
Devgn's contribution to the buffoonery is mouthing absurd English translations of Hindi phrases (Honesty is the best mutual policy, A brother in need is a sister indeed, Necessity is the mother of Discovery Channel, When elders are getting cozy, younger don't bring nosy, I will make you remember Milk No 6, to list a few) in every single scene. The shtick gets seriously jaded after a while.
Ideally someone like Anil Kapoor [ Images ] was better suited for his role. Devgn looks suitably gruff and goofy, his comedic skin has loosened up considerably but those snarling faces and a hammering baritone that oscillates between a gravelly, fake Marwari accent and lousy Hinglish liners gets overbearing after a point.
If there's one thing about this over-crowded, over-the-top, overboard, overlong flick, with not an ounce of subtlety — right from the obese pahelwans populating Devgn's entourage to the bright, magenta flowers on Abhishek's shirt — which actually clicks, it's the eponymous hero. Abhishek Bachchan underplays it as the regular, unspectacular dude with his Rowdy Rathoreish moustache but it's his turn as the queer brother where he really lets his hair down like a guy who hasn't had this much fun at office in days. Despite the overstated tone, it works.
What doesn't is Shetty's decision to end this like an Anees Bazmee movie. Think No Entry [ Images ] or Welcome. Then again, why is that not a surprise?
Bol Bachchan is dispensable cinema, forgotten almost immediately after it's over. What I kept wondering is how does Asrani who acted in Mukerjee's acclaimed films like Chupke Chupke, Abhimaan, Bawarchi feel about working in the remake of a film where the hero wore his kurta. Don't know what I'm talking about? You deserve Bol Bachchan. But if you do, you must have already begun scouting for your copy of Gol Maal somewhere.
Rediff Rating:

Abhishek Bachchan
Ajay Devgn
Archana Puran Singh
Asin
Asrani
Krushna Abhishek
Prachi Desai
Rediff
Reviews
Sukanya Verma